AC/DC 'had issues' with drummer Phil Rudd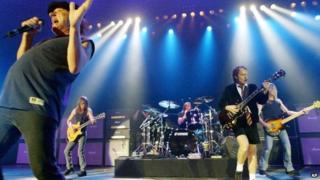 Members of rock band AC/DC say they have not spoken to drummer Phil Rudd since he was charged with attempting to arrange a murder on 6 November.
Angus Young said they had had "a few problems" with Rudd while recording their latest album but his arrest "took everyone by surprise".
"We haven't had contact," said Young. "He's got himself in a pickle."
Key charges were later dropped, but Rudd still face charges of drugs possession and making threats to kill.
"We had a few issues before with him," said Young, speaking about Rudd during an interview in New York to promote their album Rock or Bust.
"Even when we were recording it was hard even to get to him to do the recording."
"And then he was supposed to show up to do promos with us, to do video shoots and a few other things, and he never showed up for that either.
"So, at this stage, it's a pretty tough call for us."
AC/DC is one of the highest grossing music acts of all time. Their best known hits include Highway to Hell and You Shook Me All Night Long.
Australian drummer Rudd was kicked out of the band in 1983 and rejoined in 1994. But his absence from a recent photo of band members prompted online speculation about whether he was still in the band.
New Zealand police had initially accused the 60-year-old of trying to arrange for a hitman to carry out two killings, but charges were dropped after 24 hours.
Under the current charges, he could face a maximum prison term of seven years for the charge of threatening to kill.
"He's got to sort himself out I think," said Young, adding that the band remain "resolved to go forward".
"At this point it's kind of a question mark. But if we're touring, there will be a drummer in place, put it that way."
Young, 59, is the only remaining original member of the band, after his brother, Malcolm, was diagnosed with dementia earlier this year.
The current line-up includes Cliff Williams, Brian Johnson and Young's nephew, Stevie.
Rudd is due to appear in court in New Zealand on 27 November.