Doctor Who writer says changing viewing habits not affecting ratings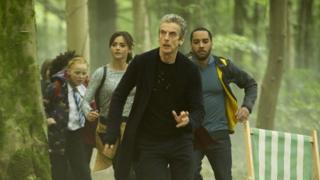 Doctor Who writer Steven Moffat says the series remains a hit although increasing numbers of people are not watching the programme live.
Asked about a drop in the show's overnight viewing figures he said: "There is no drop-off in the ratings."
"The way people watch it has changed. People watch it on catch-up to a much greater degree."
Overnight figures suggested the opening episode of the new series was seen by 6.8 million people.
That figure rose to 9.2 million once on demand viewing was counted.
Ratings fluctuated over the course of the series - with the finale attracting 5.45 million viewers overnight, but that number will also rise when the consolidated figure is published.
Speaking to the Royal Television Society, Moffat said iPlayer viewing had "tripled" in the last few years, and that Capaldi's first series as the Doctor had led to a 30% increase in viewers on BBC America in the US.
Figures from ratings agency Barb bear out his assertion. Once catch-up services are included, consolidated viewing figures show an average increase of 39% on the overnight ratings.
As a result, the first 11 episodes of the recent series averaged 7.35 million viewers. That compares with 7.45 million for the previous series and 6.98 million for the one before that.
Its audience fluctuated as the show faced scheduling changes on BBC One, most notably a move from early evening to being shown after Strictly Come Dancing.
The sci-fi favourite also faced strong competition from The X Factor on ITV in its later time slot.
BBC director of television Danny Cohen said: "Doctor Who is a great example of the way audience viewing habits are changing. On-demand viewing via iPlayer and recorded viewing mean that the total audience for programmes now grows very significantly from the initial live audience.
"In this new world, we only know the total viewing for a programme after 30 days - and in the case of Doctor Who this means that the drama is performing exceptionally well."
Moffat also disclosed at the RTS event that he had started work on the ninth series, but refused to reveal any further details. The BBC said the series would start filming in January.
Correction 14 November 2014: This story has been amended to clarify the context for the comments made by Steven Moffat.