Lynda Bellingham Oxo advert to be repeated at Christmas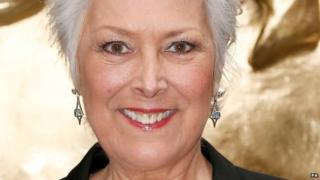 A 1984 Oxo advert starring Lynda Bellingham is to be screened on Christmas Day as a tribute to the actress, who died last month.
Bellingham became a household name thanks to the stock cube commercials, which ran from 1983 to 1999.
Oxo said hundreds of thousands of fans had contacted the firm after her death, asking for the ad to be repeated.
The My Christmas advert will be shown on ITV at a time still to be confirmed, and will also be available online.
Bellingham had spoken of her plans to spend one more Christmas with her family days before she died of colon cancer on 19 October, aged 66.
Premier Foods, which owns Oxo, said it would re-screen the ad "in memory of her life and career".
"Over the past few weeks, hundreds of thousands of Lynda's fans have rallied behind a call for the return of the ad as a fitting tribute for all the inspiring things she achieved during her career," the company said.
"To honour the sad loss of such a fabulous actress, [the] organisations and individuals involved in the creation and production of this initiative have given freely of their time."
It added it would make a donation to the charity Action Against Cancer, according to the wishes of the actress's family.