Interstellar blasts off at UK cinemas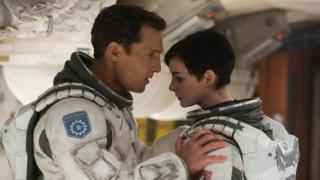 Interstellar has gone stratospheric at the UK and Ireland box office, making £5.3 million in its first three days.
Christopher Nolan's space yarn enjoyed an epic lift-off, making almost as much between Friday and Sunday as the rest of this week's Top 10 did altogether.
Yet, this weekend's number two film, Mr Turner, still had reason to celebrate.
It is now British director Mike Leigh's highest-grossing film in the UK, having taken more than £2.67m since arriving in cinemas on 31 October.
Interstellar's UK triumph contrasts with its performance in the US and Canada, where it was beaten into second place by Disney animation Big Hero 6.
Internationally however, Nolan's film is in a different orbit, having now taken more than $132.5m (£83.5m) at the global box office.
Interstellar and Mr Turner - a biopic of the English artist JMW Turner - were the only titles to take more than £1m in the UK and Ireland this weekend.
The Teenage Mutant Ninja Turtles reboot came closest to challenging them after making £738,766 on its fourth weekend in cinemas.
Mystery thriller Gone Girl is the most profitable title in this week's Top 10, having now taken £20.6m from UK and Irish cinemagoers.
Interstellar is likely to face competition next weekend from The Imitation Game, Benedict Cumberbatch's film about WW2 codebreaker Alan Turing.
UK AND IRELAND BOX OFFICE
1. Interstellar - £5.37m
2. Mr Turner - £1.01m
3. Teenage Mutant Ninja Turtles - £0.73m
4. Gone Girl - £0.69m
5. Fury - £0.67m