Joseph Gordon-Levitt to play Edward Snowden in Oliver Stone film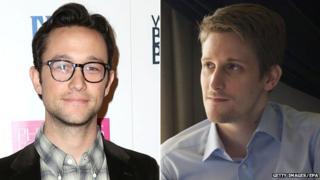 Actor Joseph Gordon-Levitt is to play Edward Snowden in Oliver Stone's film about the fugitive US intelligence leaker, its producer has announced.
The 33-year-old is known to audiences for his roles in Inception, The Dark Knight Rises and (500) Days of Summer.
Snowden, 31, now lives in Moscow after fleeing the US via Hong Kong last year, having revealed extensive internet and phone surveillance by US intelligence.
Stone's as yet untitled film will begin shooting in Munich in January.
Gordon-Levitt's involvement was confirmed by producer Moritz Borman at the American Film Market (AFM) in Santa Monica, California.
Snowden leaked tens of thousands of classified intelligence documents to the media in 2013 and is wanted by the US on charges including theft of government property and unauthorised communication of national defence information.
Stone's script for the film is based on The Snowden Files: The Inside Story of the World's Most Wanted Man, by Guardian journalist Luke Harding, and Time of the Octopus, a novel by Snowden's Russian lawyer Anatoly Kucherena.
Stone, whose films include JFK, Platoon and Natural Born Killers, called Snowden "a hero" last year, saying the former National Security Agency (NSA) contractor had acted "out of conscience".
Citizenfour, a documentary about the controversy featuring interviews with Snowden conducted during his time in Hong Kong, was recently released in the UK.