Qatari art collector Sheikh Saud bin Mohammed Al-Thani dies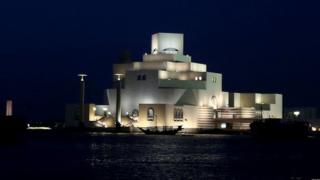 Sheikh Saud bin Mohammed Al-Thani, the former minister of culture and heritage in Qatar, who spent more than $1bn (£630m) of the oil rich country's money on art, has died aged 48.
A cousin of Qatar's current Emir, Sheikh Al-Thani was in charge of developing libraries and museums.
According to The Art Newspaper, between 1997 and 2005, he spent more than any other individual on art.
Details of his death have not been announced.
His huge collection is spread across five existing and planned museums: the Museum of Islamic Art, the National Library, the Natural History Museum, a Photography Museum, and a museum for traditional textiles and clothing.
In 2000, he founded the Al-Thani Awards, which is claimed to be the biggest photography competition in the Middle East with roughly 54,000 entrants in 2010.
---
Analysis
Will Gompertz, BBC arts editor
Sheikh Al-Thani wasn't a big deal in art buying circles, he was massive. He alone was responsible for putting several degrees of heat into what is today's scorching hot art market. When he was in town - so the rumour goes - art dealers and auction houses would dust down their best stuff, add a nought or two, and await his visit.
What made Sheikh Al-Thani stand out wasn't just the vast sums of money he was willing to spend, but the fact that he bought across the categories, from fast cars to fine art.
When he wanted a certain object, he would simply keep on bidding until it was his. There are stories of items valued at a few thousand pounds that would suddenly be nudging seven figures because the Sheikh and an under-bidder were locked in an act of brinkmanship.
The upshot of his passionate, eclectic, 20-year campaign - undertaken with a keen eye and an aesthete's sensibilities - was the creation of a world-class collection, some of which will help fill Qatar's new museums.
His life was not without controversy. He famously fell out with his cousins, the Qatari royal family, who had him put under house arrest for a short while. And, in 2012, the High Court in London froze some of his assets due to a legal wrangle with auction houses over disputed invoices.
---
Sheikh Al-Thani was also a major collector of vintage cars, bicycles, antique furniture, and Chinese antiquities.
He was sacked from his post in 2005 over reports the Emir was unhappy with him and was unclear on whether the Sheikh was spending the nation's wealth on his own collection or acquiring works for Doha's future museums.
Last year, he was ordered to pay a London-based law firm £261,000 in unpaid fees for advice given to him when his assets were frozen after failing to pay auction houses for bids he won.