BBC's Newsbeat censured over Islamic State news report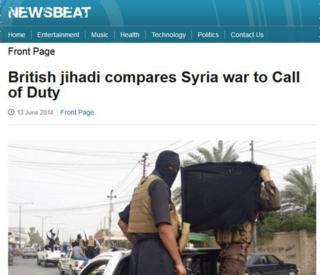 BBC Radio 1's Newsbeat programme has been found in breach of broadcasting codes for a news item about Islamic State (IS) fighter Abu Summayah.
Media watchdog Ofcom found that an interview with the British jihadist may have offended and was inappropriate for the station's young audience.
They said remarks about his IS membership being like the computer game Call of Duty had no context.
The BBC admitted the item should have carried a warning.
Newsbeat bosses added that such reports were usually preceded by a warning message, and the lack of one on this occasion was an "oversight".
They told Ofcom that producers would be required to attend compliance workshops and reconsider legal and editorial requirements towards their young audience.
"Newsbeat accepts the findings of the OfCom and BBC Trust reports - appropriate measures have already been introduced to prevent similar breaches in the future," the BBC said in a statement.
Ofcom concluded that the news item, which was broadcast in a lunchtime slot earlier this year and intended for Radio 1's younger audience, had not been appropriately scheduled.
They said the views of Abu Summayah, including that being part of the organisation was "quite fun", were not the material that would be expected at that time and were deemed unsuitable for minors.
The BBC had asserted that the news item "raised significant issues relevant to, and of concern to, young people of whatever age or creed".
Ofcom said that in was in the public interest to bring up issues of this nature, but added broadcasters have to provide context when controversial figures are given airtime.
The organisation added that "appropriate challenge" should also be put in place to counter their opinions.
They added that more information could have accompanied the interview, including background information about "the reality of life in Iraq for those recruited from abroad to fight alongside jihadists in the Middle East".
Ofcom also censured Newsbeat for choosing to place a lighter item about the World Cup in Brazil immediately before the IS interview, which "would not have prepared listeners for the content and tone" of a hard-hitting piece about the Middle East.
The BBC contended that the audience were in no doubt about Newsbeat had not endorsed the opinions of Abu Summayah, and that the report emphasised the "violent nature of IS".