Irish actress Maureen O'Hara gets honorary Oscar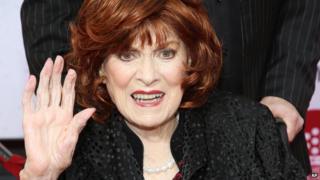 Irish-born actress Maureen O'Hara has received an honorary Academy Award on Saturday.
The 94-year-old will receive the Oscar statuette - her first - at the film academy's Governors Awards ceremony in Los Angeles.
She is best known for films such as Miracle on 34th Street, Sinbad the Sailor and The Parent Trap.
She was a frequent collaborator with director John Ford, appearing in five of his films, including The Quiet Man.
O'Hara said she cried when she heard the news, then cried again when discussing the honour during a recent interview.
"It's just absolutely wonderful,'' she said. "I keep thinking, `Oh, this is a league of baloney. They're not telling me the truth.'"
The Dublin-born actress added: "Making movies is a wonderful experience.
"It's wonderful the stories that you fall in love with and you make and they wind up being very successful, and it breaks your heart almost. I don't mean with sadness. It breaks your heart with joy."
Also receiving honorary awards were US actor and singer Harry Belafonte, Japanese director Hayao Miyazaki and French screenwriter and actor Jean-Claude Carriere.