Lollapalooza music festival set to take place in Berlin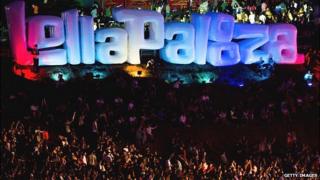 The first European edition of US music festival Lollapalooza is to be held in the German capital next year, organisers have announced.
The main event, held in Chicago since 1991, will land in the city's Tempelhof airport site in September 2015.
Founder Perry Ferrell, lead singer of Jane's Addiction, said Berlin's "energy and vibrant art and music scenes" made it a perfect fit for Lollapalooza.
Other versions of the festival already take place in South America.
Next year will see events in Santiago, Sao Paulo and Buenos Aires, as well as Berlin and Chicago.
Farrell added that Berlin is "a mirror reflection of what Lollapalooza is all about and I can't wait to share in this cultural exchange".
The festival's website announced that the tradition of its US event for "bringing incredible music, food, art and social responsibility" would be transported to the German capital.
Tempelhof is closed to air traffic but its runways remain intact, and has been the venue for various rock concerts over the years.
Lollapalooza started life in 1991 as a touring festival in the US and championed non-mainstream rock acts and culture.
In 2005 it became an annual weekend music festival based in Chicago's Grant Park, expanding its activities into South America five years later.
Acts who have performed at Lollapalooza over the years include Nine Inch Nails, Queens of the Stone Age, Foo Fighters and British acts the Arctic Monkeys and Siouxsie and the Banshees.