Actor Tom Ellis wins newspaper damages over child support claim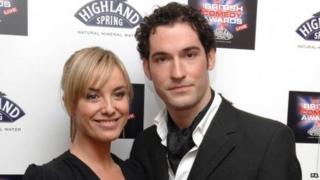 Miranda actor Tom Ellis has won substantial damages over a false story that he was failing to pay child maintenance to his ex-wife, actress Tamzin Outhwaite.
He sued the Sunday Mirror over its story which claimed he was "in a bitter battle over child support payments".
Mr Ellis sued for defamation and misuse of private information.
The newspaper's publishers, MGN, apologised in the High Court.
Mr Ellis and former EastEnders actress Ms Outhwaite, who have two children together, divorced this year after eight years of marriage.
His solicitor, Leo Dawkins, told Mr Justice Edis: "The article claimed that my client had deliberately sought to shirk his responsibility to pay child maintenance for his two daughters with Ms Outhwaite, by claiming he was too cash strapped to do so, and that this had forced his ex-wife to threaten him with lawyers to ensure that he met his obligations as a father."
He added: "To have such defamatory allegations published in a national newspaper was deeply upsetting for my client. His distress was compounded by the fact that, as is obvious, the financial arrangements regarding his children are private."
Mr Dawkins told the court there was no truth in the article and there had been no such argument between the former couple "bitter or otherwise".
The court heard that Ellis had "never failed to pay his share of child maintenance, nor has he ever claimed that he could not afford to do so".
Gervase de Wilde, on behalf of MGN, told the court: "The defendant hereby apologises to Mr Ellis for the publication of the article complained of and is pleased to have this ability to set the record straight."