Manet £40m sale beats artist's record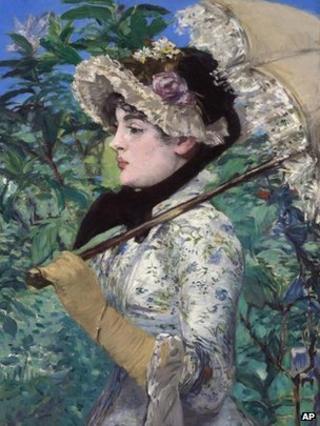 A portrait of a Parisian actress by Edouard Manet has set a new auction record for the French impressionist.
Spring sold at Christie's in New York for $65 million (£40.6m), almost doubling the previous record of $33.2 million (£20.7m) for a work by Manet.
The oil painting, which has been owned by the same family for more than 100 years, depicts actress Jeanne Demarsy in a floral dress and bonnet.
The J Paul Getty Museum in Los Angeles was later revealed as the buyer.
It will go on public display by the end of the year, the institution said.
The 1881 masterpiece had been estimated to sell for up to $35 million (£21.9m).
The allegorical painting has been on loan to Washington's National Gallery of Art for the past 20 years.
It was intended to be one of a series of four paintings, but Manet only completed Spring and Autumn before his death in 1883, aged 51.
The Christie's auction of modern and impressionist art fetched more than $165 million compared with a $422 million sale at rival Sotheby's earlier this week.
Brooke Lampley, head of Impressionist and modern art at Christie's said the sale was "well-priced and tailored to today's tastes".
But the second most expensive lot in Wednesday's sale failed to sell. Les constructeurs avec arbre, by French cubist painter Fernand Leger, had been valued up to $22 million (£13.7m) but failed to raise significant interest in the auction room.
Among other highlights in the sale were Alberto Giacometti's Stele III sculpture, which fetched $9.9 million (£6.1m) and Joan Miro's Tuilerie a Mont-roig, which sold for $8.7 million (£5.4m).
The strong results were a testament to "the widespread interest in Impressionist and modern art," said Doug Woodham, president of Christie's Americas.