Theatre, gaming and TV meet in 'a new sort of artform'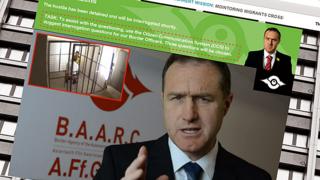 Audiences for National Theatre Wales' award-winning new show do not need to turn up at a theatre - they can watch online and vote on crucial parts of the story. The company is among the pioneers trying to make theatre truly interactive.
National Theatre Wales' Bordergame offers a disturbing glimpse of the near future.
Wales has split from the rest of the UK, has been renamed the Autonomous Republic of Cymru and has become a safe haven for people fleeing a TB outbreak in England.
But it is not a conventional play.
For a start, the immersive live performance does not take place in a theatre but in Bristol and Newport, and on the train between the two, with audience members given the roles of migrants who must convince border authorities that they are crossing legally.
And then there is an online audience who are asked to act as the eyes and ears of the border agency, watching live, shaky spycam streams from the train and CCTV footage from a mock detention centre.
They must spot suspicious-looking characters among the "migrants", suggest questions for actors playing border agency staff and have the final say on who gets questioned and what their fate should be.
It is an ingenious way to involve both real audience members and online users in a story that taps into our hysteria over immigration and terrorism. It also tests how far the online mob will go when given power.
In August, Bordergame won the inaugural £20,000 Space Prize for innovative digital theatre, run by online arts portal The Space and BBC Writersroom.
While most theatre-going still involves sitting in a darkened room, some companies are making tentative steps to truly marry live experience with digital interaction.
"It feels like the beginning of a new sort of artform," says The Space chief executive Ruth Mackenzie.
The question, she says, is how to make the digital experience as good as being there in person.
Streaming conventional plays to a computer or tablet is a relatively new development - but is still "not as good as being at the theatre", Mackenzie says.
"The most exciting proposals are those that don't subordinate the internet to real life, that take it as seriously and put as much creative effort into that relationship.
"I think one of the great joys of the internet is it does turn audiences into participants, and almost into artists. That's the real thrill, if we get this right."
Like National Theatre Wales, many theatre-makers who have moved in this direction have found that the technology liberates them from the traditional theatre venue.
So can you still call an online experience like Bordergame theatre?
"Good question," Mackenzie replies. "When does it become a game, or when does it become a TV drama? I don't know."
National Theatre Wales artistic director John McGrath says peoples' lives are now split between the online and real worlds, and theatre must reflect that.
"A lot of the time, part of our minds are in the digital, part of our minds are in the three dimensional, and we're trying to negotiate our way in between these two," he says.
"Artworks that exist only in one or the other in some ways are contradictory to how we experience the world around us."
---
Here are some of the other companies and shows that are leading the way in interactive theatre:
Coney - Better Than Life
In June, pioneering theatre company Coney brought together a small audience to watch and take part in a show about a bloke called Gavin who could draw the future.
Online, others could get involved in a parallel experience that involved asking the "real" people questions, choosing camera angles, controlling lighting and interacting through messaging.
Coney co-director Annette Mees said it was an experiment into whether watching a show online could be better than watching in person.
For their next show, Early Days (Of A Better Nation), which runs in London later this month, a 60-strong audience will be charged with forming a new society in a post-apocalyptic future - but this time without the online element.
---
Blast Theory - I'd Hide You
If you happened to see three people wearing illuminated helmets and holding video cameras running around Sheffield in June, they were (probably) the "stars" of I'd Hide You, a city-wide game in which the trio had to hide from each other.
Players could follow their video streams online, choosing which runner to follow, telling them where to go and helping or distracting them.
I'd Hide You was created by Brighton-based Blast Theory, masters of marrying the real and digital words.
They also created My Neck of the Woods, part of a youth festival run by the Royal Exchange theatre in Manchester last year, in which online viewers followed three teenagers as they roamed their neighbourhoods, fielding questions from followers as they went.
---
Forced Entertainment - Quizoola24!
A 24-hour quiz show will be streamed by Sheffield-based theatre pioneers Forced Entertainment in their home city later this month as part of their 30th anniversary celebrations.
Quizoola24! will involve members of the company asking each other questions in shifts, and the public are invited to submit questions in advance.
A recent Forced Entertainment show, the six-hour Speak Bitterness, was webcast from Berlin. Meanwhile, enthusiastic viewers simultaneously talked about the show using a Twitter hashtag.
Guardian theatre critic Lyn Gardner said it showed how watching theatre online could be a genuinely shared experience. The Twitter conversation was "not just a response, but something that was creative and beautiful in its own right, and created together", she wrote.
---
Elastic Future - Longitude
Google Hangouts were used to broadcast three live episodes of a drama about a deal to buy fresh water in the wake of climate change in June. The actors appeared live from London, Barcelona and Lagos.
The drama, titled Longitude, was created by experimental theatre company Elastic Future and playwright Tim Wright, and was part of the London International Festival of Theatre.
Viewers could not interact with the story or actors directly, but were encouraged to take part in a debate on social media.