EastEnders stars return as ghosts for Children in Need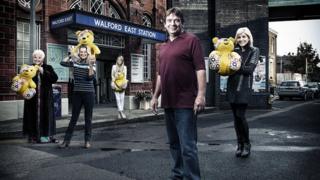 A special EastEnders sketch for Children in Need will see some of the soap's former stars return as ghosts.
After being knocked unconscious, Ian Beale will be visited by mother Kathy, ex-wife Cindy and Pat, played by Gillian Taylforth, Michelle Collins and Pam St Clement respectively.
He will also see the ghost of his daughter Lucy, played by Hetti Bywater, whose killer is still on the loose.
The sketch will be broadcast during BBC One's Children in Need on 14 November.
Actor Adam Woodyatt, who plays Ian Beale, said: "I never thought I would see the day where I was reunited with Gillian, Pam, Michelle and Hetti, so to work with them all again and for such a great cause was an absolute dream.
"It was one of the best days I have ever had at work. As soon as we got on set it was like none of them had ever left."
Producers said Ian would be confronted by the women from his past including his "adulterous, home-wrecking ex-wife" and mum Kathy, who has a surprising new love interest, in various iconic locations around Albert Square.
Taylforth, who played Kathy from 1985 to 2000, said it was "an honour" to take part in the sketch and "surreal but fantastic" to be back on the EastEnders set.
Woodyatt added: "I don't want to spoil it but Ian is really happy to see some faces and completely knocked for six by others, but then again I think finding your late ex-wife in your kitchen is enough to shock anyone."
Bywater, who played Lucy for two years until her murder in April, said she was happy she and Ian could be united one last time.
"Ian feels guilty as the last few conversations they had didn't end well so it was nice for them to have a final moment together," she said.
Lucy's murderer will finally be revealed during a special live week of shows in February 2015 to celebrate the soap's 30th anniversary.
Other highlights of this year's Children in Need will include a reunion performance from S Club 7.