Gregg Allman dropped from Midnight Rider legal action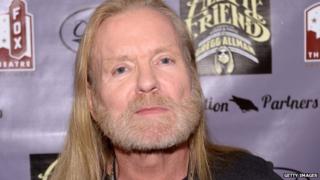 The family of a camera assistant killed on the set of the Gregg Allman biopic Midnight Rider have dropped the rock singer from their legal claim.
Sarah Jones was hit by an oncoming train in February while the film crew were setting up camera equipment on train tracks near Savannah, Georgia.
Authorities said the film company did not have permission to film there.
A review has found that US rock singer Allman was not involved in any of the decisions leading to Ms Jones' death.
Her father Richard said in a statement that "the legal process is working and questions are being answered".
"During a very difficult and trying time for our family, Gregg Allman and [executive producer] Michael Lehman demonstrated their genuine sorrow over the loss of our daughter and their willingness to work with us in the future to ensure safe film sets for all," he said.
"For that, we are grateful."
Mr Lehman's name and distributor Open Road Films have also now been dropped from the legal papers, which were originally filed in May.
The Midnight Rider film crew had been just minutes into the first day of filming when the collision took place. They were shooting a dream sequence in which Allman is in hospital and sees his dead brother Duane on a bridge.
A train hit the metal bed and several crew members were injured by pieces of shrapnel. Ms Jones, 27, was hit by a piece of metal and knocked into the path of the train.
A trial is now due to take place in March, with the family seeking unspecified financial damages from others including the film's director Randall Miller.
He and three others have pleaded not guilty to charges of involuntary manslaughter and criminal trespassing.