The verdict on Young Fathers' Mercury Prize win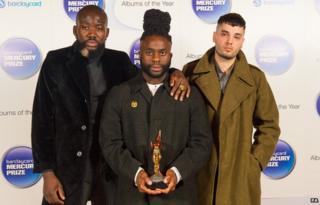 Young Fathers' Mercury Prize win caught the bookies and plenty more by surprise, but what did music critics, bloggers and fellow musicians make of their victory?
As many were quick to point out, the Edinburgh-based hip-hop trio had sold fewer than 2,500 copies of their album Dead before being awarded the prize.
In fact, the Press Association calculated they "could have bought the lot with their £20,000 prize money - and still have change left over".
However their win has been championed by music critics, including The Guardian's Alexis Petridis.
Dubbing them "misfits deserving of their win" and their album "deeply anomalous... bewitching and alluring", he added that "a lack of commercial success doesn't necessarily indicate a lack of commercial potential".
Petridis wrote: "If the Mercury prize has a worthwhile purpose, it's to shine a light on music that a wider audience might well like if they heard it, and Dead fits the bill perfectly."
An NME blog also ruminated on the reasons Young Fathers deserved to win - championing the band's "sullen" and "genuinely nonchalant" attitude on the red carpet and the winner's podium.
"Rejecting the hype so brazenly is a rare, refreshing and commendable attitude to have in today's music industry," wrote Lucy Jones.
"Not only that: I'm sure their self-belief and disregard for critical attention has allowed them the space and focus to create a record so coherent and individual."
She added: "If anyone's making exciting, forward-looking music in 2014, it's Young Fathers. Even if they look like they've won 20,000 slugs instead of 20,000 quid."
Having yesterday lambasted the lack of chart acts making the list, The Telegraph's Neil McCormick conceded the album made "interesting listening".
"Apparently the best album of the past 12 months was an obscure mash-up of hip-hop groove, psychedelia, world music and politically conscious lyrics that nobody paid the slightest bit of attention to at the time," said McCormick.
"But if you are going to pick a winner from a dozen obscure albums that made little or no impression on the listening public, then why not this one?"
'The right winners'
Meanwhile "The Twittersphere" seemed split, with posts mainly falling into one of two categories; the "who?" camp and the "catch-up, I knew about Young Fathers before they did" variety.
Musicians and DJs including 2012's Mercury Prize-winners Alt-J and fellow nominee Kate Tempest - rushed to congratulate the band.
Having been one of this year's favourites to take the prize herself, Tempest wrote: "Oh my gosh what a night. Best strangest most incredible night ever. Young Fathers are epic and wonderful and the right winners for sure."
Live-blogging the event, Drowned in Sounds' Robert Leedham commented: "Well who saw that coming? Not me."
He admitted a win for Young Fathers was "straight out of the leftfield" but added: "Hopefully they'll use this as a springboard for bigger things."
Clash went as far as branding 2014's Mercury Prize contest "the best in ages".
Online editor Mike Diver was "very happy" Young Fathers' win had helped highlight the "great diversity that exists in this country's musical underground".