Joan Rivers' daughter hires firm to investigate death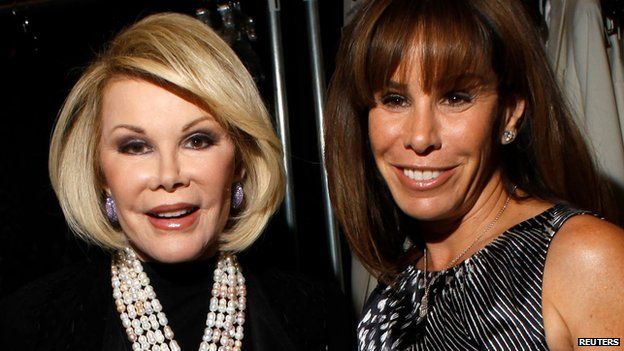 Joan Rivers' daughter, Melissa, has hired a legal firm to investigate the circumstances around her mother's death.
The comedian died on 4 September aged 81 following a cardiac arrest during a medical procedure on her throat.
The New York medical examiner's office said the death was due to brain damage from low blood oxygen.
The investigation could pave the way for a civil claim against the clinic where the comic was treated.
"In order to fully determine the facts and circumstances surrounding the death of Joan Rivers, we confirm that our firm has been engaged by Melissa Rivers and her family," Ben Rubinowitz, a partner at Gair, Gair, Conason, Steigman, Mackauf, Bloom and Rubinowitz, said.
However, he declined to comment on whether Rivers' family intended to file a legal claim.
Rivers died after spending a week on life support at Mount Sinai Hospital following the cardiac arrest.
The official cause of death was listed as anoxic encephalopathy - a condition caused when brain tissue is deprived of oxygen leading to brain damage.
It was also classified as a "therapeutic complication", meaning it was a known risk of the procedure.
Negligence is not suspected and was not listed as a contributing cause.