Alvin Stardust album release date brought forward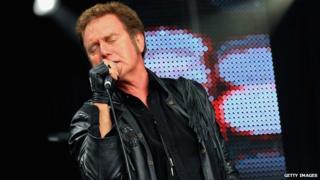 The release of Alvin Stardust's final album, his first in 30 years, has been brought forward following his death.
The singer died on Thursday, at the age of 72, after a short illness.
He had recently been diagnosed with metastatic prostate cancer and died at home with his wife and family around him.
The former glam rock star had been due to release the album, titled Alvin, on 3 November, but it will now be out on 27 October.
Speaking shortly before his death, Stardust said the album would represent "a new and exciting departure" of which he was "immensely proud".
His record company, Conehead, has issued a statement saying the album was "a worthy testament to a talent that endured, and a reputation that will continue even after his death".
"It's a reflective, speculative and deeply personal album that beguiles with an open honesty that recalls the best of the singer-songwriter genre."
The album was produced by Richard Scott and Scott Ralph, known as Daftdog, who have written for Robbie Williams and Michael Buble.
They said Stardust gave his all to the creative writing process, "something to our knowledge, in spite of his huge musical heritage, he'd never been given the chance to do before".
They said it was "a privilege and pleasure" to work with Stardust and said the album "captures Alvin's vast musical and life experiences".
Hidden side
Speaking a few weeks before he died Stardust revealed the chance to make the album "came out of the blue".
"We got together for a one-off try at writing something. I was blown away with the result.
"They have brought out a completely hidden side of me and I love the darker, swampy blues edge that we have found."
Stardust, who was born Bernard Jewry, found fame in the 1970s with hits including My Coo Ca Choo and Jealous Mind.
In the 1990s he appeared on stage in musicals including Godspell, The Phantom of the Opera and Chitty Chitty Bang Bang.
Returning to touring in 2010, Stardust resurrected his leather-clad persona singing his hits and cover versions.
He had performed on stage at the Regal cinema in Evesham, Worcestershire on the Saturday prior to his death.