Alvin Stardust: Obituary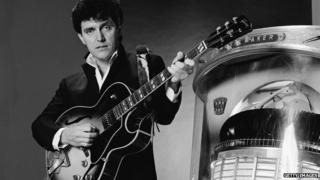 With his bouffant quiff and extravagant sideburns, Alvin Stardust became a huge star with 1970s glam rock hits such as My Coo Ca Choo, You You You and Jealous Mind.
The singer and actor, who has died aged 72, had a career spanning more than five decades that included stage musicals and a stint in soap opera Hollyoaks.
Born Bernard Jewry in London's Muswell Hill in 1942, Stardust moved to Mansfield in Nottinghamshire with his family where his father had a new job as a salesman.
According to his official biography, his early musical influences came from the children's Saturday matinees at his local cinema where his idols were the singing cowboys, Roy Rogers and Gene Autry.
On his 12th birthday, the young Jewry was given his first guitar by his mother. He took it with him on a bus to Doncaster to see Buddy Holly, where he talked his way backstage and "jammed" with the singer and his band the Crickets.
Holly signed the guitar and over the years it had also been autographed by music stars such as Eddie Cochran, Gene Vincent, Johnny Kidd, Billy Fury, Bill Haley, The Beatles and The Rolling Stones.
In an interview with The Scotsman in 2010, Stardust said he'd considered the guitar lost until he rediscovered the instrument - which he had named Peggy Sue - at his mother's house after she died. The discovery helped him decide to return to live touring.
He insured Peggy Sue for £2m. "I wouldn't sell it," the singer told the newspaper. "That's my teenage years and memories of my mum when she bought it for me."
Stardust signed his first record deal in 1961 as the frontman of Shane Fenton and the Fentones. He had been asked to step in after the death of the group's previous singer, Johnny Theakstone. The band had a number of top 40 hits in the early 1960s and toured throughout Europe.
But it wasn't until 1973, when he signed up with Magnet Records, the singer took the name that would make him most famous.
Alvin Stardust's first hit My Coo Ca Choo, written by Peter Shelley, reached number two in the UK in December 1973. The follow-up single - Jealous Mind in 1974 - also by Shelley, was his only UK number one.
Now a household name, Stardust appeared on TV in the mid-1970s as part of the Green Cross Code road safety campaign.
Success continued into the 1980s with top 10 hits Pretend, I Feel Like Buddy Holly (written and produced by Mike Batt) and I Won't Run Away.
In the 1990s, Stardust turned to acting and made stage appearances in shows such as Godspell and David Copperfield - The Musical.
He spent six months in Chitty Chitty Bang Bang as the Child Catcher at the London Palladium in 2005.
He presented his own Sunday morning children's TV series, It's Stardust, on ITV in the late 1980s, while other TV appearances included Hollyoaks - where he played pub landlord Greg Andersen in 1995-96 - and Doctors. More recently he spoofed his Green Cross Code campaign on Harry Hill's TV Burp.
Returning to touring in 2010, Stardust resurrected his leather-clad persona singing his hits and cover versions.
A Guardian review of a gig in Skegness said Stardust did "outrageously sensual things to Duffy's Mercy and Johnny Kidd's Shakin' All Over".
It concluded: "As My Coo Ca Choo sees him spraying champagne over gyrating fans well past retirement age, Stardust's career seems as wonderfully ludicrous as ever."
Stardust married three times. His first wife was Iris Caldwell, with whom he had two sons, Shaun and Adam. His second wife was the actress Liza Goddard, with whom he had a daughter, Sophie.
His third wife was Julie Paton, an actress and choreographer, with whom he had a daughter, Millie.
Stardust re-recorded many of his hits for the I Love Rock and Roll album on Universal Records in 2010. The singer, who lived in Billingshurst, West Sussex, had a new album - Alvin - due for release in early November 2014.
On his website he described it as "a new and exciting departure for me".