TS Eliot poetry prize money boosted for anniversary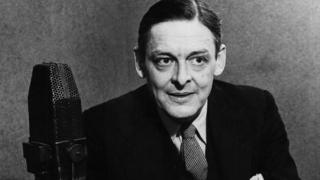 The prize money for the TS Eliot Prize has been increased to mark the 50th anniversary of the poet's death in 2015.
The winner of the poetry prize - from a shortlist of 10 - will receive £20,000, up from £15,000.
This year's shortlist includes three previous winners and one debut collection.
The winner will be announced at a ceremony in London on 12 January 2015.
Judges Helen Dunmore (chair), Sean Borodale and Fiona Sampson chose the shortlist from 113 books submitted by publishers. The shortlisted poets will each receive £1,500.
---
The TS Eliot Prize 2014 shortlist:
Fiona Benson - Bright Travellers (Jonathan Cape)
John Burnside - All One Breath (Jonathan Cape)
Louise Gluck - Faithful and Virtuous Night (Carcanet)
David Harsent - Fire Songs (Faber)
Michael Longley - The Stairwell (Jonathan Cape)
Ruth Padel - Learning to Make an Oud in Nazareth (Chatto & Windus)
Pascale Petit - Fauverie (Seren)
Kevin Powers - Letter Composed During a Lull in the Fighting (Sceptre)
Arundhathi Subramaniam - When God is a Traveller (Bloodaxe)
Hugo Williams - I Knew the Bride (Faber)
Profiles of each poet are on the Poetry Book Society website.
---
The three previous prize winners on the shortlist are John Burnside (Black Cat Bone, 2011), Michael Longley (The Weather in Japan, 2000) and Hugo Williams (Billy's Rain, 1999). Fiona Benson's Bright Travellers is the only debut collection.
"After reading more than a hundred poetry collections the three judges for this year's TS Eliot Prize were delighted - and excited - by the quality of the work submitted," Dunmore said.
"Our shortlist reflects the musicality, mastery and ambition of these 10 chosen poets. It's worth saying that while our discussions were searching, our decisions were in all cases unanimous. As one judge said when we surveyed the pile of shortlisted books at the end of our meeting: 'This is a box-set I'd love to have'."
The TS Eliot Prize was launched in 1993 to celebrate the Poetry Book Society's 40th birthday and to honour its founding poet. The £20,000 prize is donated by the TS Eliot Estate.
Last year's winner was Sinead Morrissey for her collection Parallax.
Previous winners include Alice Oswald, Don Paterson, Carol Ann Duffy, Seamus Heaney, Sean O'Brien and Ted Hughes.