BBC Radio 1's Lily Allen set broke swearing rules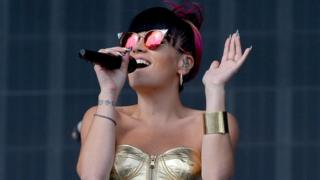 BBC Radio 1 broke broadcasting guidelines when Lily Allen and Ed Sheeran swore on air at the Big Weekend festival, watchdog Ofcom has said.
Allen swore six times during her performance at the station's event in Glasgow in May, which went out live between 17:30 and 18:00 BST.
Presenter Scott Mills warned listeners the sets may contain "strong language".
But Ofcom ruled the offensive language was broadcast when "children were particularly likely to be listening".
The BBC said there was an immediate apology after the broadcast.
It explained that a "comprehensive risk assessment" had been carried out and that singers were told not to swear in writing, and on signs in their dressing rooms.
Ofcom noted that Sheeran swore during one of his songs at 18:45 BST.
It added that as Lily Allen was known to use strong language, "it was reasonably predictable that her set could contain the most offensive language".
Before Allen came on stage, Mills issued the warning: "Now don't forget this set may contain some strong language, it is live on Radio 1's Big Weekend.
"We're about to see Lily Allen. If you're easily offended please go to the website and check out some other performance."
The BBC explained that it had considered cutting away from Allen's set twice, but a senior producer decided to continue because apologies had been given and it was believed that not that many children would be listening.
It also stated that, in retrospect, Radio 1 should have stopped broadcasting Allen's set live after the second song that contained offensive language and edited the rest of her performance.
Tightened procedures
The watchdog received two complaints specifically about Allen's swearing - which was contained in her songs - and another about offensive language across the whole weekend.
Ofcom said that as Radio 1 was "both the event promoter and broadcaster" of Big Weekend, it had a lot of control over the scheduling of performances.
The watchdog pointed to a previous incident in 2011 when the Black Eyed Peas swore during a live performance at the same event.
Radio 1 was warned at the time that it should take steps to avoid strong language during live performances. Ofcom said the station "should have been more aware of this risk" in light of the previous incident.
Meanwhile, in its findings, the BBC Trust's editorial standards committee concluded that the live output on Radio 1 and online was a serious breach of the editorial guidelines for harm and offence.
A BBC spokesperson said: "We note the findings of Ofcom and the Trust; we have examined our procedures and tightened them accordingly."