Stephen Frears: Filmmaker receives BFI fellowship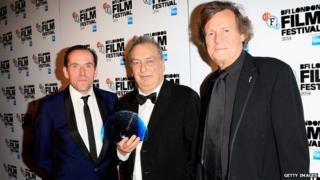 British director Stephen Frears has been honoured with a British Film Institute (BFI) fellowship.
The 73-year-old joked that the accolade made him feel "geriatric" and said of his career: "It's not over yet."
Frears was presented with the award by playwright Sir David Hare at the London Film Festival awards ceremony.
His films include Dangerous Liaisons, High Fidelity, The Queen and Philomena, which won a Bafta and four Oscar nominations.
Frears started his career in TV drama, working with writers including Hare, Alan Bennett, Stephen Poliakoff and Sir Tom Stoppard.
His 1985 film My Beautiful Laundrette won critical acclaim for tackling issues of homosexuality and race and was Oscar-nominated for its screenplay, by author Hanif Kureishi.
"My mother would be surprised that I'm standing here," said the director as he collected his award in tuxedo and trainers.
"She'd still be wondering when I'm going to get a proper job. I think she thought I'd end up in prison."
Frears is now working on a biopic about disgraced cyclist Lance Armstrong which he said was "nearly finished".
"Throughout his extraordinary career, Stephen has produced a body of work which never fails to surprise," said BFI Chairman Greg Dyke when.
"From sweeping costume drama to powerful social realism, his films strike a perfect balance between drama, humour and pathos."
Leviathan, Russia's submission for next year's foreign film Oscar, was named best film at Saturday's gala event by a jury that included actor James McAvoy and producer Jeremy Thomas.
"Its grandeur and themes moved all of us," said Thomas of Andrey Zvyagintsev's film, a story of small-town corruption set near the Russian-Finnish border.
The evening also saw Sameena Jabeen Ahmed named best British newcomer for her performance as a teenager on the run from her Pakistani family in Catch Me Daddy.