US actress Elizabeth Pena dies at 55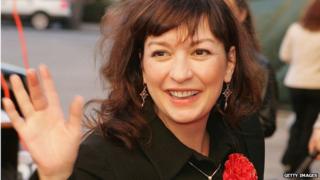 US actress Elizabeth Pena, who appeared in films including Lone Star and Rush Hour, has died at the age of 55.
Pena was also known for TV shows like sitcoms I Married Dora and Modern Family, in which she played the mother of Sofia Vergara's character Gloria.
Other film credits included La Bamba, Jacob's Ladder, Batteries Not Included and Down and Out in Beverly Hills.
Pena's manager told the Associated Press news agency she died of natural causes after a brief illness.
The Cuban-American actress was a familiar face from her dramatic and comedic roles on the big and small screens.
She caught the eye in 1986's Down and Out in Beverly Hills, playing the maid Carmen alongside Bette Midler, Richard Dreyfuss and Nick Nolte.
She won the role, she said, by bribing a security guard at Disney Studios to let her in to see the casting director after an agent had told her she was not attractive enough for the role.
That led to parts in in the Ritchie Valens biopic La Bamba and alien comedy Batteries Not Included. On TV, she played a Hispanic housekeeper who married her employer in I Married Dora.
After playing the wife of Tim Robbins' Vietnam veteran in Jacob's Ladder, she won an Independent Spirit Award for her role in murder mystery Lone Star alongside Matthew McConaughey and Chris Cooper.
Those paying tribute to her included Ugly Betty star America Ferrera, who wrote on Twitter: "Heartbroken to hear the news of Elizabeth Pena's death. She was such a light. So glad I knew her. So sad she's gone."
Will and Grace actress Debra Messing said Pena was: "A ferociously funny, fierce and singular actress. A beautiful woman who has gone way too soon... I miss you already - RIP."
Jesse Tyler Ferguson, who plays Mitchell Pritchett in Modern Family, wrote: "The entire cast and crew are very sad to say goodbye to one of our Modern Family members. RIP to the beautiful & talented #ElizabethPena."
Her La Bamba co-star Lou Diamond Phillips wrote: "I am stunned and heartbroken, just found out about the passing of my friend Elizabeth Pena. She was such a life force it's hard to believe."
Pena had recently been seen in the El Rey Network's drama Matador. In a statement, the network said: "She was a role model, a truly extraordinary performer and an inspiration in every sense of the word.
"Our thoughts are with Elizabeth's family and friends during this difficult time. She will be deeply missed."
Pena's other credits include Showtime's TV drama Resurrection Blvd and the films Free Willy 2, Transamerica, Gridlock'd and Tortilla Soup.
She won four American Latino Media Arts (Alma) Awards during her career and spoke out about the limited roles for Latin American actors.
Actress Eva Longoria tweeted: "Rest in Peace Elizabeth Pena...you paved the way for so many of us!!"