David Attenborough calls for 'more varied' TV output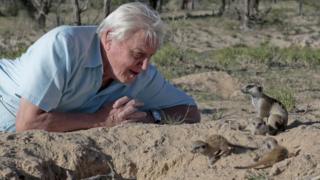 Veteran naturalist David Attenborough has bemoaned the lack of variety on television and the "great number of subjects that aren't covered".
"You'd think that the more stations there are, the more varied the output," the 88-year-old told the Radio Times.
"But the practice is the reverse," the presenter continued. "The more you get, the more similar they become."
The broadcaster also suggested BBC Two, of which he was once controller, was struggling with its identity.
"I'm not sure how they would define its policy," he said of the channel on which Life on Earth, his landmark 1970s nature series, was first shown.
"I would be seriously interested to know... what guides them, what guides the editorial decisions on BBC Two, because it isn't overly plain to me," he explained.
'Lucky rascal'
"I guess that BBC Four has taken on perhaps the invention and experimental side of BBC Two but it wouldn't harm them to say so."
In a wide-ranging interview, Attenborough also made a plea for regularly scheduled programmes on specific subjects.
"There's no serious programme about natural history on a regular basis," he told the magazine. "I'm a great one for regular programmes that I can make dates with."
Sir David also said that "there are a great number of subjects that aren't covered" on television.
In response, a BBC spokesperson said its "reputation for producing world-class natural history programming is as strong today as its ever been".
Sir David is presenting Life Story, a six-part series about how animals survive, for BBC One, beginning on 23 October.
The self-confessed "lucky rascal" is also due to travel to Australia to make a 3D film for the channel about the Great Barrier Reef.