Diversity in UK children's books recognised by charity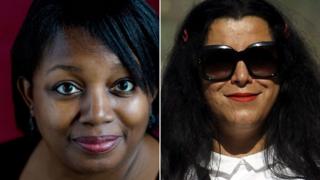 Works by Malorie Blackman and Marjane Satrapi are among 50 book recognised by reading charity Seven Stories for their cultural diversity.
Also on the Diverse Voices list are Rastamouse creator Michael De Souza and poet Benjamin Zephaniah.
The titles, all published after 1950, were chosen by a panel of judges.
"Britain's rich and diverse cultural heritage is something to be celebrated and championed," said Seven Stories chief executive Kate Edwards.
Children's books shape our earliest perceptions of the world and its cultures, building understanding, empathy and tolerance," she added.
Children's Laureate Blackman has two works listed, Betsey Biggalow in the young readers, five-plus category and Noughts and Crosses in the teenage readers, 13-plus.
Iranian-born Satrapi's autobiographical graphic novels Persepolis 1 and 2, tell of her childhood and life as a young adult following the Iranian Islamic Revolution.
The books were made into a film which was nominated for best animated feature at the 2007 Academy Awards.
The list has includes picture books, novels and biographies such as The Life of Stephen Lawrence by Verna Allette Wilkins.
Screenwriter and novelist Frank Cottrell Boyce has been included for The Unforgotten Coat - the story of two Mongolian refugee brothers living in Liverpool - which won the 2012 Guardian Children's Fiction Prize.
'Rich world'
Published in 2005, Rastamouse and the Crucial Plan has since gone on to be adapted for television on CBeebies.
Seven Stories was founded in 1996 to celebrate the children's literature and was named as the national centre for children's books in 2012.
Debbie Beeks, the learning manager at Seven Stories said: "These books offer a rich world to inhabit, enjoy and explore.
"I hope the children, carers and educators are inspired to get hold of these books, try some of the ideas in then resources and experience for themselves the art in this collection of stunning books."
The full list can be seen at the Seven Stories website.