Royal Academy to stage Rubens exhibition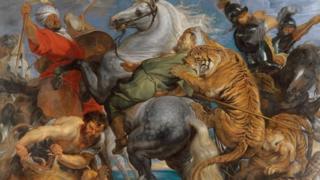 The Royal Academy of Arts is to host a major Rubens exhibition, with a focus on his influence on fellow artists.
Rubens and His Legacy will bring together a selection of Rubens's greatest masterpieces alongside artists as diverse as Manet, Klimt and Turner.
The exhibition, which opens in January 2015, will present more than 160 works by Rubens and those he inspired.
Later in the year, the academy will host the first British overview of the work of Chinese artist Ai Weiwei.
The landmark show will include major works spanning Ai Weiwei's career, as well as new pieces by the artist.
'Impact'
Peter Paul Rubens is considered the most influential of Flemish painters.
"His visual language has had an impact on art from his own day, right up to now," explains Professor Mary Beard.
"Popularly known for his fleshy, sensuous, Ruben-esque women... there are certainly some paintings in this show that will challenge our own assumptions about body image and sexuality."
Ai Weiwei is both one of China's best-known artists and one of its highest-profile government critics.
He rose to prominence with his design of Beijing's Olympic stadium, but as a strident opponent of the Chinese state, his passport has been confiscated and his travel strictly limited.
The London gallery said the forthcoming exhibition, in September 2015, would embrace "the idea of creative freedom, especially the increasingly political aspect of much of his work".
Other artists featured in the Royal Academy's programme for 2015 include Swiss portraitist Jean-Etienne Liotard, the illustrator Charles Stewart and the US post-war painter Richard Diebenkorn.