Joan Littlewood's 'Fun Palace' idea realised 50 years on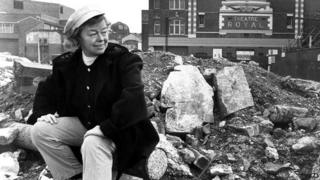 A two-day celebration of creativity is taking place in more than 120 pop-up "Fun Palaces" to honour visionary theatre director Joan Littlewood.
In the 1960s, Littlewood wanted to build a Fun Palace, a radical venue offering culture, science and education to people from all backgrounds.
It did not happen, but now artists and actors in the UK have revived the idea to mark the centenary of her birth.
Events are taking place in theatres, museums and other venues across the UK.
Littlewood, who died in 2002, was credited with transforming British theatre with plays like Oh! What A Lovely War at her Theatre Royal Stratford East in London.
In 1961, partly inspired by traditional pleasure gardens and working men's institutes, she tried to build a venue where visitors could enjoy performances, learn practical crafts and skills, watch events on giant screens or just eat and drink.
It was to have been a "laboratory of fun" or a "university of the streets".
She said she wanted a place where people could: "Learn how to handle tools, paint, babies, machinery, or just listen to your favourite tune.
"Dance, talk or be lifted up to where you can see how other people make things work. Sit out over space with a drink and tune in to what's happening elsewhere in the city. Try starting a riot or beginning a painting - or just lie back and stare at the sky."
Littlewood would have been 100 on Monday, and in her honour artists and actors are creating temporary Fun Palaces this weekend in an attempt to get more people interested in the arts and sciences.
Participants can:
Author and director Stella Duffy, who has organised the weekend's events, said they was part of an ongoing attempt to attract a wider audience to the arts.
"Joan Littlewood was very aware, having worked in the East End, that the people she was working with weren't going into the West End to see what they still, sadly, called high art," she said.
"They very much felt disassociated from it, and I personally don't think those things have changed that much."
Gemma Bodinetz, artistic director of the Liverpool Everyman and Playhouse theatres, described Littlewood as "the most extraordinary goddess of theatre and a huge influence".
"The real reason for doing it is that hopefully people will come and do things that we're not expecting," she said.
"Artists and people who don't consider themselves artists shouldn't be separated. We all are, and we're all the better for sharing our creativity."