Lindsay Lohan makes stage debut in Speed-the-Plow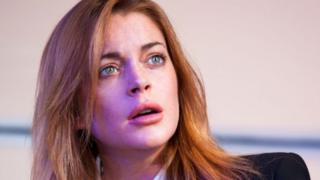 Lindsay Lohan has made her stage debut in the West End, although her performance did not go entirely smoothly.
The Hollywood actress forgot her lines once during the second act of Speed-the-Plow and was helped by a prompt.
She plays the role of secretary Karen in David Mamet's Hollywood satire, a role that was originated by Madonna on Broadway in 1988.
One prominent critic described Lohan as being "out of her league".
But the Guardian's Michael Billington described Lohan's performance as "perfectly creditable", adding that she "holds the stage with ease".
"Whatever her colourful past, Lohan brings on stage a quality of breathless naivety that is far and away the most interesting thing in Lindsay Posner's otherwise tame, under-powered revival," he wrote in his two-star review of the play.
---
First night review by Tim Masters
With the eyes of the press upon her, the pressure upon Lindsay Lohan must have been immense.
In Mamet's three-hander, Lohan's role has the fewest lines, but is the most pivotal. As the naive temp to a Hollywood exec, the husky-voiced Lohan put in a believable performance - if a little stagey at times.
The character Karen doesn't enter until 15 minutes into the first act and has little to do. But in the second act she dominates the action with impassioned speeches and complex quotes from a novel about radiation. Her minor line fluff at this point seemed down to first-night nerves. It didn't derail the play.
Lohan is likely to settle into the role once the critics have moved on. She isn't the first Hollywood star to draw the crowds to the West End stage - and she won't be the last.
---
During the curtain call, Lohan let off a giant party popper that showered the front of the stalls with gold confetti.
The 28-year-old appears alongside West Wing star Richard Schiff and stage actor Nigel Lindsay who play Hollywood hotshots - Bobby Gould and Charlie Fox - who want to pitch a movie idea to the head of the film studio.
Their plan goes awry when Karen suggests a different idea for a film based on a book she was asked to read.
Thursday's opening night at the Playhouse Theatre followed a week of previews and newspaper speculation about Lohan's performance.
The actress developed a reputation for being unreliable after her early career as a child star descended into alcohol abuse and a series of arrests.
Lohan, who made her name in films such as The Parent Trap, Freaky Friday and Mean Girls, told the BBC in July she felt "very lucky and excited and nervous" to be making her stage debut in the UK and did not intend to miss any of her London shows.
"I want to be known for my talents and my work that I create, rather than a tabloid sensation," she said.
After Thursday's opening night, The Stage's critic Mark Shenton said the West End was not there to "nurture the egos of minor Hollywood actors".
"There are really qualified actors to play this part and she's not qualified. She was so out of her league. We are talking about the wrong Lindsay here. It's Nigel Lindsay we should be talking about. He is a serious actor."
Quentin Letts, writing in the Mail, was altogether more harsh, claiming Lohan's acting "is that of a not specially gifted schoolgirl".
"She tried her very best. But she should never have been thus exposed. Acting in the West End is no joke."
He added: "Director Lindsay Posner should be ashamed of himself."
One member of the audience, Olga Reykhart, 20, from Russia, told the BBC: "I think Lindsay belongs in the movie world, and she doesn't really belong in the theatre.
"She did forget a line - that was okay - but my impression was that her voice didn't fit the stage. I expected the audience to be in crazier state when it was over."
Nora Blake, 20, from Connecticut, in the US, said she would be happy to see Lohan on stage again. "The star casting makes people want to see it and see if she messes up - that's not the way to do it. But I would love to see her in more stuff."
Her view was echoed by the Telegraph's Dominic Cavendish, who said Lohan made her debut "with a surprising - and smouldering - degree of style", adding that the 28-year-old could "hold her head high".
"Yes, her flat delivery needs work, but so does the rest of the show," wrote Mr Cavendish.
Paul Taylor, writing in the Independent, declared that Lohan "was completely on top of the script" and turned in a "deftly delineated characterisation".
Ahead of opening night, Posner told Whatsonstage.com that Lohan's involvement in the play was not an example of "stunt casting".
"If I'd wanted to do stunt casting I would have cast a supermodel. I've always believed that Lindsay Lohan is a proper actress. In the movies I've seen her in, despite her troubles in life, I've always thought she was supremely talented.
"And when she came into the rehearsed readings it was manifestly clear that she hasn't lost that talent. Although for obvious reasons I was taking a risk, I felt I was casting a really good actress for the part."
The show runs at the Playhouse Theatre until 29 November.