Obituary: Billie Whitelaw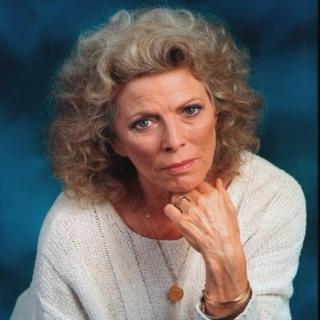 Billie Whitelaw was one of the foremost interpreters of the works of Samuel Beckett.
The celebrated playwright wrote especially for her, calling her the perfect actress.
On a wider front, she was a noted stage performer who also embraced film and television.
And she gained an international audience for her role as the chilling Mrs Baylock in the film, The Omen.
Billie Honor Whitelaw was born in Coventry on 6 June 1932.
Her family moved to Bradford to escape German bombing. Her father died from lung cancer there when his daughter was just 10.
Money was tight and her mother struggled on her own to support the family.
"It's something I haven't come to terms with," she later recalled. " I'm rather ashamed of having the good life I have."
When the young Billie developed a stutter, her mother enrolled her in a local drama group in an effort to boost her daughter's confidence.
Her drama training secured her some spots on BBC North's Children's Hour where her nervousness often made her physically sick before performances.
Willowy
She broadened her theatrical experience, working as an assistant stage manager while she was still at school.
Her stage debut came at the Prince's Theatre, Bradford, in a 1950 performance of Pink String and Sealing Wax.
She spent a number of years in rep, the usual apprenticeship for a budding actress in the 1950s.
Her willowy good looks also made her something of a regular face in British films of the decade.
She also moved into television. Her first appearance was in 1952 as the maid, Martha Sowerby, in a BBC adaptation of Frances Hodgson Burnett's tale, The Secret Garden.
Later she played Mary Crawford, George Dixon's daughter in six episodes of the BBC police series, Dixon of Dock Green.
After working with Joan Littlewood's Theatre Workshop she joined the National Theatre, playing Desdemona to Laurence Olivier's Othello at the Chichester Festival in 1964.
Demanding
By now she had met the Irish playwright, Samuel Beckett, with whom she would enjoy a 26-year professional relationship.
She became his muse. He would write parts in experimental plays for her which she would often perform to the point of exhaustion.
Her first performance in a Beckett work was Play, which had its London debut in 1964.
Many of the parts were physically and emotionally demanding. In Happy Days she was buried up to her waist in sand for her performance.
"He used me as a piece of plaster he was moulding until he got just the right shape," she later said.
One of her most famous performances was in Beckett's monologue, Not I, in which only her mouth was visible to the theatre audience.
She stopped performing Beckett's works when he died in 1989 but she remained the keeper of his flame through her one-woman lecture tours.
Acclaim
"We had enormous empathy," she said. "When he died, I didn't realise what an amputation it would be."
In 1966, she divorced her first husband, actor Peter Vaughan, bringing to an end what had become an increasingly troubled relationship.
By now she was attracting bigger film parts.
There were Baftas for her performance opposite Albert Finney in Charlie Bubbles and for her role as the mother of Hayley Mills in the psychological thriller, Twisted Nerve in 1969.
Whitelaw won much acclaim, and an international audience, for her portrayal of Mrs Baylock, the guardian of the demon child Damien in The Omen.
Many critics felt she gave the best performance in the film and it won her an Evening Standard Award for Best Actress.
She also won praise for her role as the domineering mother of the Kray twins in the 1990 film, The Krays, which featured Spandau Ballet's Martin and Gary Kemp as her notorious sons.
Happiness
By this time she had given up theatre performances, partly because of Beckett's death and also because of her failure to conquer her stage fright.
"Death's not one of those things that frighten the life out of me," she once said. "Getting up on stage with the curtain going up frightens me more."
She did continue to act in films, she appeared in more than 50 during her career, and on television.
She also found happiness with the writer and actor Robert Muller, whom she met in 1967. He died in 1998.
Billie Whitelaw was the most natural of performers, who made a speciality of playing independent, and sometimes dominant women.
But she didn't take her profession that seriously seeing it, as she put it, something which paid the parking tickets, which she habitually collected.
"I'm not really interested in acting anymore," she said in a 1996 interview. "It's not the centre of my life. I always thought it was a bit of a flibbertigibbety occupation."