Sheila Tracy: Former radio and TV host dies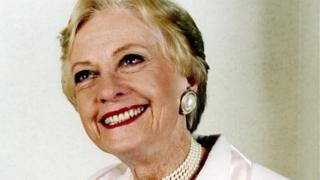 Broadcaster and musician Sheila Tracy, who was the first woman to read the news on BBC Radio 4 and presented Radio 2's Big Band Special, has died aged 80.
A trombonist, she first found fame as part of the musical duo The Tracy Sisters before becoming a TV announcer.
She joined Radio 4 in 1974 and moved to Radio 2 three years later, gaining a cult following with her overnight Trucker's Hour in the early 1980s.
She went on to spend 21 years as the voice of Radio 2's Big Band Special.
Born in Cornwall in 1934, Tracy was among the last in-vision announcers on BBC television before becoming one of the earliest presenters of regional TV news in south-west England.
In the 1960s she also hosted BBC One's A Spoonful of Sugar, which took celebrities to surprise hospital residents, and commentated on the Miss England contest for four years.
On BBC Radio's Light Programme, she presented music programmes in the 1960s before moving to newsreading on Radio 4.
After being given her own three-hour overnight programme on Radio 2, she made the hour from 01:00 to 02:00 Trucker's Hour, inviting correspondence from truck drivers.
She later said the response was so big that it was "the most successful show I've ever done" - but some of the CB slang she innocently relayed caused consternation among the BBC hierarchy.
'A wonderful broadcaster'
In 1979, she introduced the first Big Band Special and went on to present hundreds of concerts from around the world for the next 21 years.
BBC Radio 2 controller, Bob Shennan, said: "Sheila was a wonderful broadcaster with an extensive knowledge and love of big band music.
"She was a voice on BBC Radio 2 for over 20 years and was much loved by the audience. I'd like to extend my sympathies to her family."
The station will pay tribute to her on Clare Teal's show on Sunday.
In recent years, Tracy hosted a show that was broadcast on US station Pure Jazz Radio and charity AgeUK's digital station The Wireless.
She was married to the actor John Arnatt, who died in 1999.
She died at the Princess Alice Hospice in Esher, Surrey, on Tuesday.