Lionel Shriver wins BBC National Short Story Award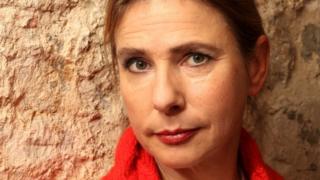 Lionel Shriver has won this year's BBC National Short Story Award for her story Kilifi Creek.
The US writer who lives in London and was previously shortlisted for the prize in 2009 and 2013, received £15,000 for her story about a woman who cheats death.
Zadie Smith was named runner-up, receiving £3,000 for her story Miss Adele Amidst the Corsets.
Chair of the judges Alan Yentob called Shriver "a worthy and deserved winner".
"From a fantastic shortlist, Lionel Shriver's Kilifi Creek stood out as a wonderful evocation of life in miniature, crossing continents and generations. Shriver proves that short really is sweet," he said.
The author, who is best known for her novels We Need to Talk About Kevin, So Much for That and The Post-Birthday World, was presented with her prize at a ceremony at the BBC's Radio Theatre in London.
'I almost died'
"I love working in a form that doesn't consume a couple of years," Shriver said about writing short stories rather than novels.
"Ironically, low temporal risk can facilitate high-risk style and content. In a short story, you can try anything."
Talking about her winning story, first published in The New Yorker last year, the author said: "I have a little collection in my head of the occasions on which I almost died. Some of these are dramatic, but in others, to an observer, nothing would have occurred. For these are experiences of what didn't happen.
"But I have a keen sense of the 'counterfactual,' as one critic observed, which is only by way of saying I have some imagination, some appreciation for how at numerous junctures I might have veered in a different - in some cases, fatal - direction."
The three other shortlisted authors, Tessa Hadley, Francesca Rhydderch and Rose Tremain, received £500.
All five shortlisted stories, read by five actors including Carey Mulligan and Rebecca Hall, can be listened to online until the end of October.
The National Short Story Award is open to writers resident in the UK and was launched in 2006 in collaboration with the Book Trust.
Previous winners include Sarah Hall, James Lasdun, Julian Gough, Clare Wigfall and David Wilson.