BBC rapped over Horrible Histories Florence Nightingale sketch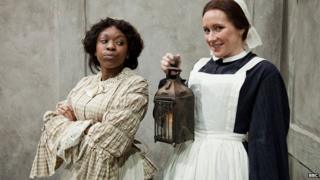 The BBC Trust has criticised Horrible Histories for giving the impression that Florence Nightingale was racist.
The CBBC children's sketch show featured a segment in which Nightingale explained to Jamaican-born Mary Seacole that her nursing corps was only "for British girls".
Seacole replied her father was from Scotland.
The trust said the "overall impression" was that Nightingale had acted "in a racially discriminatory manner".
Nightingale, regarded as the founder of modern nursing, came to prominence while serving as a nurse during the Crimean War from 1853-1856, where she tended to wounded soldiers. She was nicknamed The Lady with the Lamp.
Seacole provided care for wounded servicemen on the battlefield and was posthumously awarded the Jamaican Order of Merit in 1991.
In the sketch, originally broadcast in 2010, the Seacole character, speaking with a thick Jamaican accent, said: "Four times me tried to join Old Lamp-Face's nurses in the Crimean War, and four times she said no."
The actress playing Nightingale responded disdainfully: "The nursing corps was for British girls. You're from Jamaica."
The trusts editorial standards committee ruled the sketch breached editorial guidelines on accuracy adding the programme's makers should have done more to make it clear that it was not Nightingale herself who rejected Seacole.
Viewers would "be likely to regard the implied allegation of racial discrimination as established historical fact", the committee said.
It said: "Given the seriousness of any imputation of racism, the relative recency of Nightingale's life...the immensity of Nightingale's contribution to modern nursing and her significant stature in modern British history, the committee felt it was incumbent on the programme makers to ensure that there was sound evidence upon which to base any suggestion that she had acted in a racially discriminatory manner."
The committee concluded "the programme makers had provided no such evidence".
Terry Deary, the author of the Horrible Histories book series, on which the CBBC show is based, announced recently that he is ending the run of books after more than 20 years.
He said on his website that he is writing a new range of history books for adults for the next two years.