Obituary: Lynda Bellingham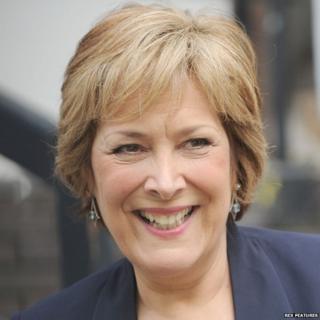 Lynda Bellingham had an acting career that spanned five decades.
She was rarely out of work, appearing in a string of roles on TV, film and the stage.
She had a starring role in the BBC series All Creatures Great and Small, which for a time became a staple of Sunday evening viewing.
But for many people, she will be best remembered for her 16 years as the "Oxo Mum" in advertisements that became a series of mini-soap operas.
She was born Meredith Lee Hughes in Montreal, Canada, on 31 May 1948.
Her mother Marjorie gave birth to her out of wedlock, incensing her strict Jewish family, who made her give up her daughter.
She was adopted by a British couple, Donald and Ruth Bellingham, who brought her up in their Buckinghamshire home.
It was an idyllic childhood. "I grew up on a farm. I think every child should be brought up on a farm because you see the whole of life's cycle," she said.
Bellingham always nurtured ambitions to be an actor and, after leaving her school in Aylesbury, trained at the Central School of Speech and Drama, in London.
She later said the desire to act had been driven by the knowledge that she had been adopted. "I guess the whole acting thing came from wanting people to love me."
She started out in repertory theatre in a number of plays including the Crewe Theatre Company production of Lysistrata in 1970.
There were bit parts on television in the early 1970s, but she gained greater exposure when she secured the part of Hilda Price, a nurse in the ITV afternoon soap General Hospital.
Screen favourite
Her film debut came in Confessions of a Driving Instructor in 1976, one of a series of British sex farces, far more explicit than the Carry On films.
She married the film's producer Greg Smith, but the relationship soon foundered on his many infidelities.
"On my wedding night I was left sitting in the George V Hotel in Paris while he watched the football," she said.
She continued to be a regular in TV dramas and sitcoms including The Sweeney, The Gentle Touch and The Pink Medicine Show.
In 1983, she was offered the part as the Mum in TV advertisements for Oxo stock cubes.
For the next 16 years she dished up a mixture of sage advice, and tasty meals, sometimes enlivened by the odd flirtatious remark to her screen husband, played by actor Michael Redfern.
But the cosy domesticity of the adverts was in direct contrast to her own home life.
The Inquisitor
In 1981, she married Italian restaurateur Nunzio Peluso. The 16-year relationship produced two children but it was an abusive one.
"Nothing could have been further from the truth than my image on those adverts," she later recalled. "I would keep everything from the press because I was terrified of losing my contract with Oxo."
She suffered a mixture of mental and physical abuse, including incidents where she recalled Peluso locking her in a room and holding a knife to her throat.
In 1986, she appeared as The Inquisitor in a 14-part Doctor Who serial, Trial of a Time Lord, which was Colin Baker's last appearance as the Doctor.
Two years later, she took over the role of Helen Herriot from Carol Drinkwater in the BBC series All Creatures Great and Small.
But while she continued to appear in a number of TV series, including Faith in the Future and At Home With The Braithwaites, major roles eluded her.
She blamed the Oxo adverts for becoming typecast in a mother role, which prevented her from being considered for more meaty parts.
Strictly success
So she was pleased in 2008 when she got the role of Chris Harper in the stage production of Calendar Girls.
Her character is the driving force behind a local Women's Institute's decision to produce a nude calendar of its members to raise funds.
In the same year, she married her third husband, Michael Pattemore, a mortgage broker who had been working in Spain.
She referred to him as Mr Spain in her regular appearances on TV series Loose Women.
She also appeared on the BBC's Strictly Come Dancing in 2009, but was voted off on her fourth appearance.
After managing to track down her birth mother in Canada, the two enjoyed regular phone calls.
So she was distraught when she was only told of her mother's death in 2012 after the funeral had taken place.
In 2013, Lynda Bellingham announced she was postponing a touring role in Kay Mellor's play A Passionate Woman after being diagnosed with colon cancer.
While she initially expressed optimism about the future, she revealed in September 2014 that her cancer had spread and that she had just months to live.
Lynda Bellingham never really escaped her image as the Oxo mum, but was a passionate actress at heart.
"At the end of the day, I am a failed sex goddess," she once said. "I have never quite cracked it. I am still hopeful of winning an Oscar for best newcomer, aged 85."