Craig Revel Horwood to play Miss Hannigan in Annie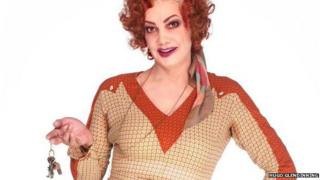 Strictly Come Dancing judge Craig Revel Horwood is to play cruel orphanage supervisor Miss Hannigan in the stage musical Annie next year.
Revel Horwood, known for his miserly scoring and withering put-downs in the ballroom show, will make his debut in the role in Newcastle in July.
The production of the evergreen Broadway hit will then tour to several other towns and cities.
Meanwhile, the new series of Strictly starts on BBC One on Friday.
The first show will see celebrities including Judy Murray - mother of tennis ace Andy - take to the floor with their professional dance partners for the first time.
In an earlier launch programme, Revel Horwood criticised Mrs Murray's moves in a group performance.
On stage, he will play the undisputed villain of the Annie story. He will follow in the footsteps of US actresses Carol Burnett and Kathy Bates, who played Miss Hannigan in the 1982 and 1999 film versions.
Cameron Diaz is set to play the cantankerous character in the latest cinematic update, which is due for release later this year.