Southbank Centre repairs get £4.9m Lottery boost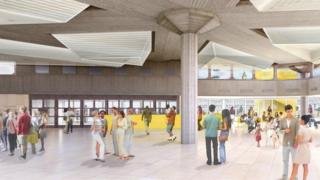 Planned maintenance of the Southbank Centre in London has had a £4.9m boost from the Heritage Lottery Fund.
The money will bolster the £16m already pledged by Arts Council England towards the £25m cost of repairing and maintaining the arts venue.
The announcement has come ahead of a public consultation on the proposed alterations to the site.
Earlier this month, the Southbank Centre failed to close a skatepark beneath its Queen Elizabeth Hall.
The closure was due to form part of a planned £120m redevelopment of the entire site, which comprises the Royal Festival Hall, Queen Elizabeth Hall, Purcell Room and Hayward Gallery.
But campaign group Long Live Southbank, which had support from London Mayor Boris Johnson, had fought to avert the closure of the ad hoc park and has signed a long-term agreement with Lambeth Council to remain.
The redevelopment plans are currently on hold.
Southbank Centre chief executive Alan Bishop, said last week: "We are also still committed to a wider scheme for the Festival Wing, creating new arts and cultural spaces to provide more free arts and education opportunities for millions of people each year."
The repair programme, meanwhile, is due to begin next September.
It will include the renovation of buildings and a recreation of the Hayward Gallery's Pyramid Roof, which allows controlled natural light into the upper galleries as originally conceived by the architect.
Mr Bishop said: "After nearly five decades of intensive use, this project will restore the facilities for audiences and artists to world-class standards."