Threadneedle Prize: Tina Jenkins wins £20,000 award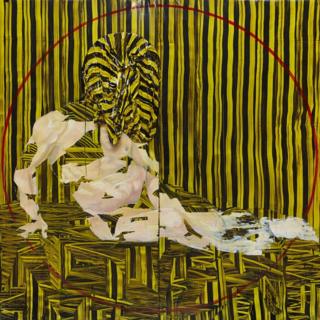 Artist Tina Jenkins has been awarded this year's Threadneedle Prize for her mixed media work, Bed Head.
Her 1.7m square gloss and acrylic piece on plastic sheeting was praised by the judges for its "bold approach to the human form and clever use of material".
Jenkins will receive £20,000 plus a solo exhibition of her work at London's Mall Galleries next year.
Bed Head is currently on show at the Threadneedle Prize exhibition at the gallery until 11 October.
Jenkins said she was "in shock and thrilled" to win the prize.
"Winning this important prize is a dream, to be able to put these funds into my practise and knowing I have the exhibition to work towards in 2015 is so exciting," she said.
Jury panel member Whitney Hintz said: "There was a wide range of submissions but this year's Threadneedle Art Prize winner stood out immediately.
"Tina Jenkins' Bed Head was one of the first works we saw on judging day and, after viewing over 3,600 submissions, it was the first work that we returned to."
As well as showcasing this year's winner, the Threadneedle Prize exhibition also includes 58 other paintings, sculptures, drawings and prints shortlisted for the award.