Exhibit B: Is controversial art show racist?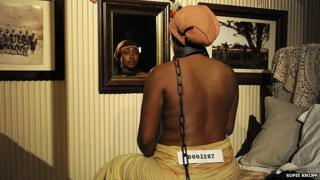 An art show using black actors as live models to tell the stories of African slaves, human zoo specimens and asylum seekers has been cancelled by London's Barbican after protests from those who saw it as racist and offensive.
The performance art piece was created by Brett Bailey, a white South African director, and has been seen by 25,000 people in 12 cities before London.
Is it racist? Should it go ahead? Here, two figures from both sides of the argument give their views.
Paul Richards - UpRise anti-racism campaign and BrazenBunch arts collective
The people who created, commissioned and staged Exhibit B did not grasp the gravity of the issues it tackled and the impact it would have, Mr Richards says.
The Barbican did not consult the black British or African communities, he says. "There was no cognitive or cultural diversity in the conversation.
"Something like this has to be in consultation, or have informed decisions, with the community.
"I'm reluctant to equate this to the Holocaust, but I very much doubt that anybody trying to do something similar about the Holocaust would not have gone to consult with the Jewish community."
An institution like the Barbican has "a responsibility to understand the gravity of something" like the history of slavery and oppression depicted in Exhibit B, he added.
'Huge offence'
The work also gives a distorted view of the past, Mr Richards argues. "The observer is left with the imagery of the African subjects, or objects - and the perpetrators of the crimes are written on a small piece of paper. It's very one-dimensional."
As well as that, it combines stories from different eras - from the 19th Century to the modern day - "as if there's one single African-ness", he says.
"It's not educational, it actually causes huge offence and would confuse the young audience they say they want to reach of African heritage."
At the root of the problem is an "institutional racism within the arts in the UK", Mr Richards believes.
Instead of creating and telling historical stories themselves, black people are usually only performers or small organisations "who get the crumbs at the end".
He says: "Rather than the African people censoring white people, there's continual censorship of people of the African diaspora and African heritage being able to tell their own story or be involved at some point in their story."
Stella Odunlami, performer in Exhibit B
"This show is not a human zoo. I am not an animal," says Ms Odunlami, who was to have appeared in the show's London performances.
Critics have accused Exhibit B of being no better than the 19th and 20th Century human zoos it depicts. "I am a young, educated black female," Ms Odunlami says. "I wouldn't choose to put myself in a human zoo."
Ms Odunlami was to have played Found Object #2, a modern-day Gambian asylum seeker.
"The piece is a commentary on how people have been subjugated to horrible injustices based on the idea of them being 'other', and it's through doing this I guess that people are viewed as artefacts, hence the name of the role I'm playing, Found Object #2."
The protesters have refused to acknowledge the show is a commentary on past and present injustices, she says.
'Important' show
"My biggest fear before saying 'yes' to taking part in this show was what people would think, but I thought, if people didn't understand they'd book tickets, come and see it for themselves and make an informed opinion.
"That hasn't happened. I chose to take part in the show because I think it's important, because I think there's a lot of ugly history that we refuse to acknowledge, that we're not taught about in classrooms, that you have to go out and find for yourself.
"As a black child going to schools, I wasn't told much about myself and about my history. All I was taught about was slavery.
"If you want to know exactly what happened, about how Europe was built on the degradation and dehumanisation of Africans, you have to research it yourself, and I think this piece was amazing in actually bringing that conversation to the fore and saying, are we doing anything different? Have we really changed?
"As a young, educated black female who lives and works in London, whose work has been dedicated to trying to find an alternative narrative for black people - to be told that I've sold out, that I'm a puppet, is insulting."
Interviews by BBC News arts reporter Ian Youngs and arts correspondent David Sillito.