Denzel Washington brings OCD element to The Equalizer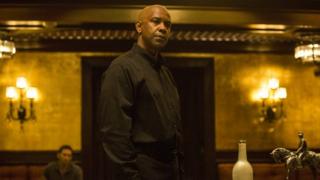 In his latest film, Denzel Washington takes on the Russian mafia in a reboot of 1980s TV series The Equalizer. The double Oscar winner talks about bringing an OCD - or obsessive compulsive disorder - element to the role and why theatre remains his first love.
The first thing Denzel Washington notices is my footwear. "You've got pointy shoes there, Tim."
This doesn't come as a huge surprise. In The Equalizer, Washington's character Robert McCall is a former intelligence officer who uses his astonishing powers of observation to identify sharp everyday objects with which to despatch his enemies.
The original TV series, starring Edward Woodward as a retired intelligence officer in New York, ran for four seasons between 1985 and 1989. That's where the similarity to the new Hollywood version ends.
"The producer wanted the name and basic premise and that was about it," says Washington. "I helped develop the character a bit more."
Washington's McCall is a widower living in Boston. He works in a DIY store by day and by night takes a tea bag - carefully folded in a napkin - to a diner where he reads classic novels and chats to teen prostitute Teri, played by Chloe Grace Moretz.
But McCall's past as a highly trained killer is reawakened when he takes on the Russian criminals who control her.
"I started reading about obsession and obsessive compulsive behaviour," says Washington. "I developed a back story for myself that whatever it was he used to do - and I'm glad we don't say - caused an amount of damage or post-traumatic stress.
"He's lost his wife - we don't quite know why - and it manifests itself in this obsessive compulsive behaviour. He says to the girl 'you've got to be who you are in this world', but I don't think he's being who he is."
'Time just goes by'
The Equalizer reunites Washington with Training Day director Antoine Fuqua. The 2001 crime drama won Washington a best actor Oscar. He already had a best supporting actor statuette for 1989's Glory.
"I didn't think either of us realised it was that long," says Fuqua of the 13-year gap. "People still talk about Training Day so much - in a good way. Time just goes by."
How did he find working with Washington again? "We eased back into it really quickly. We spend a lot of time talking. It was the same rhythm that we had with Training Day.
"It's like musicians - some people play well together and we trust each other."
Fuqua will direct Washington again next year in The Magnificent Seven. "It's a Western in the traditional sense. What I did with Training Day with the cop world I want to do with the Western."
There's also talk of an Equalizer sequel, although both director and actor say it depends on the box office takings.
"The people decide," says Washington. "They've got to go to this one first. No business, no show. And you have to have a good script. So we'll see what happens."
Washington, who turns 60 in December, started his acting career in theatre and this year returned to Broadway in a new production of Lorraine Hansbury's A Raisin in the Sun, which won a Tony Award for best revival of a play.
Previous Broadway appearances include playing Marcus Brutus in Julius Caesar in 2005 and appearing opposite Viola Davis in August Wilson's Fences in 2010, for which he won his first Tony.
The stage, says Washington, is where he gets "back to the basics".
"It's a like a musician - you can do studio albums all the time but you got to get in front of the audience - that's where it really happens.
"You can fix and tweak stuff in a movie, but there's no cut in theatre. I like that - it's exciting. Sometimes I go 'what have I got myself into?' But it's worth it and it makes me a better actor - and that's what I'm trying to be."
The Equalizer opens in the UK and Ireland on 26 September.