Ricky Tomlinson battles to overturn 1970s prison term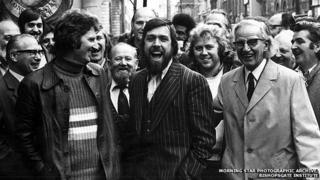 Before becoming one of Britain's best-loved actors through roles in Brookside and The Royle Family, Ricky Tomlinson was controversially jailed for his part in a strike in 1972. He is trying to clear his name, and hopes a new play about the case will help.
In 1972, Ricky Tomlinson was a plasterer in his mid-30s, living in a council house in north Wales, known by his real name Eric, with his familiar gift of the gab and a fiery streak.
When building workers went on a national strike that May, Tomlinson was among the leaders of a "flying picket" that visited building sites to persuade non-union members to down tools.
On 6 September, 300 members of a flying picket, including Tomlinson, visited building sites around Shrewsbury.
Five months later, 24 were charged with committing offences on that day including conspiracy to intimidate, unlawful assembly and affray.
In the end, three were jailed. Tomlinson, given a two-year sentence, was among them. Fellow picket leader Des Warren got three years.
Tomlinson, Warren and the others insisted they were innocent and had been set up by the political establishment. Their treatment led to protests, bitter arguments within the Labour party and the threat of a general strike.
Those with long memories may recall the case of Eric Tomlinson and his comrades.
Those who know him only as the cuddly TV and film star - as layabout Jim Royle from The Royle Family, Bobby Grant from Brookside and Mike Bassett England Manager - may be surprised to learn about his past life.
More than 40 years on, the story is being told on stage in a docu-drama called United We Stand.
Tomlinson, now approaching his 75th birthday, has given his support to the play and hopes it will help the campaign to clear his name.
He transforms back from cuddly star to firebrand as he discusses the case, insisting it was a miscarriage of justice. "We live in a so-called democracy, but does it really exist?" he asks.
"That's why it's so important to tell people today that we haven't got the freedom that we think we've got.
"They're taking it [the story] to the masses, to the people who don't know anything about it. A lot of people who will see the play weren't born when this went on."
The trial of Tomlinson, Warren and the others was told that they put on a "frightening and terrifying display of violence", according to newspaper reports from the time.
According to Tomlinson, the government, judiciary, police and building trade cooked up the charges to make an example of the strikers.
The year 1972 had been a torrid one for Edward Heath's Conservative government. Strikes by miners and dockers had forced the prime minister to call two states of emergency.
So what happened on 6 September 1972? Tomlinson says the pickets were asked to visit a building site ("called the Brookside site, funnily enough") that was full of "lumpers", casual workers who were paid lump sums and undermined the strength of the union.
Police accompanied them at all times, he points out, and made no arrests on the day.
"Considering we were charged with conspiracy, their argument was blown to pieces because I'd only hired my coach till 12 o'clock to go as far as Oswestry," he says.
"The guy I hired the coach off did the school run. I had to phone him at 12 o'clock to ask if we could keep the coach longer. The police were with us, these 80 police, and we had a good meeting on the site."
Was there any trouble? "Oh, there was the usual banter," he replies without defining what he means by banter. "And fellas shouting, 'Oh, we don't want to come out.'"
'Peaceful' protests
But the meetings were not violent, he says. "I went out every day. I used to take my lad out with me - I had a five or six-year-old son. I used to take him out nine times out of 10 on my shoulders.
"We were after £30 for a 35-hour week and we were after better health and safety. In 1972/3, more people died in the building game than in the mining industry and the farming industry put together. That's the point we had to put across."
Part of the following outcry stemmed from the fact that the men had been charged with conspiracy to intimidate rather than intimidation. Simple intimidation would have carried a maximum sentence of three months. The conspiracy charge had no limit.
The trial judge and the appeal judge acknowledged that the length of the sentences was intended as a deterrent to other strikers.
Lord Widgery, Lord Chief Justice, dismissed the appeal, saying at the time: "The deterrent effect of the original sentence has contributed to a period of relative peace."
Career change
Des Warren died in 2004, having blamed his ill health on tranquilliser drugs administered to awkward prisoners. Tomlinson is clearly haunted by the treatment his co-defendant received.
The campaigners now want the convictions to be overturned and want government and security service documents from the era, which have not been made public on national security grounds, to be released.
After leaving jail in 1975, Tomlinson struggled to work in the building trade again. He had been a pub and club entertainer on the side, and so answered an advert in the Liverpool Echo for someone with an Equity card and trade union experience.
It was placed by director Roland Joffe, who invited him to do a workshop. Tomlinson says he misunderstood: "I phoned my mate and said, 'That fella's turned out alright. He wants us to build a workshop.'"
When he got there, with mate and building gear in tow, Tomlinson found he had actually been invited to an acting workshop, where actors and directors try out scenes.
Joffe was so impressed with Tomlinson's acting that he cast him in the lead role for a BBC Play For Today titled United Kingdom in 1981.
Ricky Tomlinson, the lovable TV personality, was born - but his fiery streak burns on.
United We Stand opens at the Lantern Theatre in Liverpool on Thursday before going on tour.