Cape Fear actress Polly Bergen dies aged 84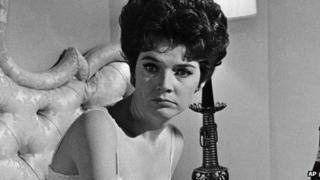 Polly Bergen, the actress whose fictional family was terrorised by Robert Mitchum in the 1962 film Cape Fear, has died aged 84.
Her publicist Judy Katz said Bergen, who had emphysema, died peacefully at her home in Connecticut on Saturday.
Success came early in her career when she won a Golden Globe for her portrayal of singer Helen Morgan in a 1950s series of TV plays.
More recently, she appeared in TV series Desperate Housewives.
Her role, as Lynette Scavo's mother Stella Wingfield, merited an Emmy nomination to add to many award nominations and successes across a career spanning more than six decades.
A Golden Globe nomination came for the 1963 film The Caretakers.
In 1964, she played the first female US president in the film Kisses for My President.
She was later nominated for a Tony award for her role in a revival of the Stephen Sondheim musical Follies.
Another Emmy nomination came in 1989, for best supporting actress in a miniseries for War and Remembrance.
She continued to work into her 70s and played Fran Felstein, the former mistress of Tony Soprano's father, in HBO's The Sopranos.
Born Nellie Paulina Burgin, in Knoxville, Tennessee, her father was a construction engineer who was talented amateur singer and would later perform with Bergen when she presented her own CBS variety show between 1957-58.
She starred as Gregory Peck's wife in the thriller Cape Fear, a role played by Jessica Lange in Martin Scorsese's 1991 remake.
Bergen, along with Peck and Robert Mitchum, all made cameos in the later film, which starred Nick Nolte and Robert De Niro.
In 1965, she created the Polly Bergen Company cosmetics line which consisted of lines of jewellery and shoe brands; and authored three books on beauty.
Bergen was a regular cast member of the TV series Commander-in-Chief as the mother of Mackenzie Allen, the US President, played by Geena Davis.
Paying tribute to the actress, Family Guy creator Seth MacFarlane tweeted: "RIP Polly Bergen-- loved her as Rhoda Henry. #TheWindsOfWar" while film director John Carpenter tweeted simply: "Good bye to the awesome Polly Bergen."