Theatres Trust lists 33 historic theatres 'at risk'
By Ian Youngs
Arts reporter, BBC News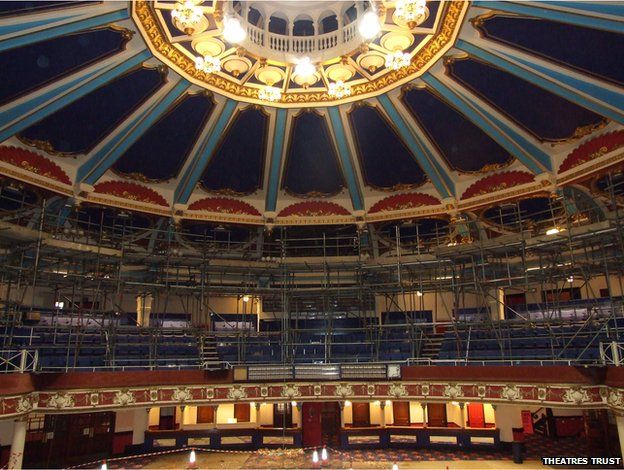 More than 30 historic theatres in England and Wales are "at risk" from decay, closure or irreversible change, according to the Theatres Trust.
The 33 venues are listed in the Trust's annual Theatres at Risk register.
Top of the list is the Brighton Hippodrome, which is currently derelict and is due to be converted into a £35m cinema and restaurant complex.
New additions to the list include the North Pier Theatre and Winter Gardens Pavilion, both in Blackpool.
The North Pier Theatre's orchestra pit was destroyed in a storm last December, while metal and plasterwork in the the Winter Gardens Pavilion is "severely eroding and collapsing", the Trust said.
The Brighton Hippodrome is one of three theatres to be given the Trust's highest risk rating of nine, along with the Plymouth Palace and the Victoria Theatre in Salford.
The Brighton venue, which was converted from an ice rink in 1900, is one of three surviving Victorian circus theatres in the UK, meaning it was built in a big top-style.
It has been empty for seven years after serving as a bingo hall and the redevelopment plans were approved by Brighton and Hove City Council in July.
English Heritage said the proposals were likely to represent a "final chance to save the Hippodrome", but opponents say they would alter the historic building too much.
"We think it's not necessarily the only viable option for that building," Theatres Trust director Mhora Samuel said. "In fact, the best option, as ever, is for it to be brought back as some form of performing arts venue."
Communities Secretary Eric Pickles is due to decide whether to call in the plans for a public inquiry.
Three new additions to this year's list are at risk of closure because of local council cuts, the Trust said.
They are the Muni Arts Centre in Pontypridd, Wales, and the Secombe Theatre and Charles Cryer Studio Theatre, both in the London borough of Sutton.
"We're seeing a very worrying trend," Ms Samuel said. "We're seeing more local authorities reducing their arts provision as they have to make cuts."
The total number of theatres on the register is down from 48 in 2013, largely because the Trust has decided to focus its resources on the most important cases, Ms Samuel said.
Related Internet Links
The BBC is not responsible for the content of external sites.