Maxine Peake in Hamlet: Critics deliver their verdicts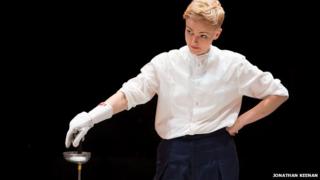 Maxine Peake's performance as Hamlet has been described by critics as "stunningly good", "excellent" and "not fully rounded" after her opening night.
Peake is playing Shakespeare's Danish prince at Manchester's Royal Exchange.
In a five-star review, The Times' critic Dominic Maxwell said it was a "fabulous, feminised production".
The Guardian and The Telegraph awarded three stars each, with The Telegraph's Dominic Cavendish declaring it not "quite the triumph one had hoped for".
The star of BBC One's Silk and The Village has said she took the role of the vengeful prince because of a scarcity of great parts for women and because she found Shakespeare's female roles "quite problematic".
She is the first high-profile woman to tackle the role in the UK for 35 years.
"It is not the performance you expect," wrote Dominic Maxwell in The Times. "It is, however, a stunningly good one."
He went on: "Without straining for shock value or raising voices unduly, Peake and co make this 400-year-old revenge tragedy come alive in a way you've never seen before."
'Moral disgust'
In The Guardian, Michael Billington described Peake's Hamlet as "caustic, watchful, spry and filled with a moral disgust at the corruption she sees around her".
It was, he decided, "an excellent Hamlet" and "a fine performance that confirms Peake's capacity for emotional directness and a fierce, uncensored honesty".
Billington's main reservation concerned the omission of "almost all of the play's political context".
In the Telegraph, Dominic Cavendish judged that Peake had failed to reach the summit of "the Everest of roles".
He said the actress "sometimes seems to gargle, and even garble, the verse" and noted "the restricted range of her projection".
Her performance had integrity and lacked earnestness, he wrote, but concluded: "It's Hamlet in-the-round but not a Hamlet that's fully rounded."
'A milestone'
Writing in the Manchester Evening News, Greg Thorpe was effusive. "This is an extraordinary Hamlet," he said. "It's more than extraordinary. It's a milestone Hamlet.
"In her Chairman Mao suit and David Bowie hair, Peake uses every part of the stage, every prop, every poise of the body to deliver a 400-year-old script as if the words have just come to her."
A three-star write-up by Glenn Meads on WhatsOnStage.com said Peake delivered "a subtle and knowing performance and also manages to give the character a fresh approach which goes way beyond gender".
However, he concluded, "the omission of much of the political machinations mean that it lacks the thrills and dogged determination of previous productions".
As well as casting Peake as the prince, the genders of Polonius, Marcellus and Rosencrantz have been switched by director Sarah Frankcom.
Speaking before the run began, Peake said approaching the role as a woman had allowed her to see the play in a new light.
"This really works as a woman in touch with her more masculine side saying these lines," she said. "It feels right. Sometimes you go, oh my God, this was definitely written for a woman."