Cat Stevens to tour US for the first time since 1976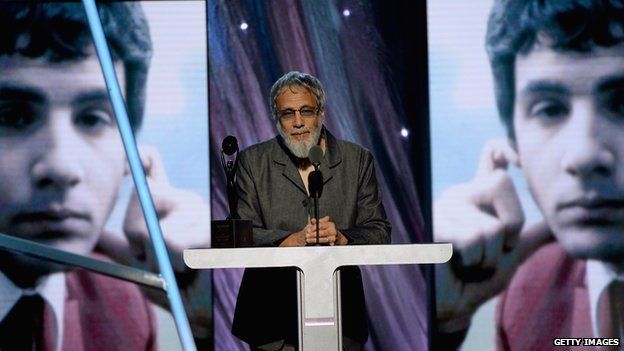 Cat Stevens - also known as Yusuf Islam - is to perform a series of dates in the US for the first time since 1976.
The musician, who converted to Islam in 1977 and put his career on hold, will play six concerts in December.
The 66-year-old, who was inducted into the US Rock and Roll Hall of Fame earlier this year, is now known by his original stage name and Yusuf.
He is best known for his 1971 recording of Christian hymn Morning Has Broken, a top 10 hit in both the UK and US.
Stevens had a number of other hits during the 1960s and 70s, including Wild World and Peace Train.
The British-born singer, who now lives in Dubai, is due to release a new album on 27 October - his first in five years.
He says he has been gradually reconnecting with this music career in the US.
"I've been a bit slow in coming around to the United States, but there were so many people asking me to do that, that I just felt an obligation," he said in an interview with the Associated Press.
The six dates announced so far will take in Boston, New York, Los Angeles, San Francisco and Chicago and the Canadian city of Toronto.
A further six concerts around Europe are also scheduled, including one in the UK at London's Hammersmith Apollo.
The tour is entitled Peace Train... Late Again in a nod to his long musical break and gradual moves to resume his recording career.
The musician says he is not concerned about his faith becoming an issue when he resumes touring in the US.
"I'm afraid that a lot of things that people believe about Islam are totally different from the religion that most of us recognise.
"I was really fortunate that I got to know Islam before it became a headline," he said.
Related Internet Links
The BBC is not responsible for the content of external sites.