Toronto Film Festival 2014: Reporter's diary - Part 3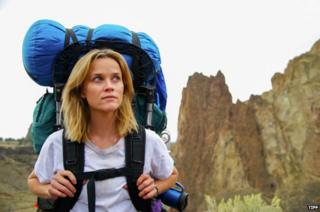 The 39th Toronto International Film Festival is widely considered to be start of the annual film awards season, serving as a high profile launch pad for movies that have gone on to receive Oscar glory.
With films such as Slumdog Millionaire, The King's Speech and 12 Years a Slave picking up the festival's top award in recent years, the Toronto Film Festival is now one of the most important events in the industry calendar.
The BBC's Genevieve Hassan is at the festival to report on the movies, stars and industry heavyweights making waves on the shores of Lake Ontario.
Follow this link to catch up with the diary from the first week of the festival.
Saturday 13 September 00:00 (05:00 BST)
If you look at Oscar nominees in recent years, a bit of a pattern emerges.
As an actor, you're likely to receive a nod - and go on to win - if you play a historical character (Daniel Day-Lewis, Colin Firth, Forest Whitaker), someone with a physical illness (Tom Hanks), mental illness (Geoffrey Rush), or lose a lot of weight (Matthew McConaughey).
As an actress it's a bit more varied, but playing a historical or other real-life character certainly helps (Helen Mirren, Julia Roberts, Marion Cotillard, Sandra Bullock).
The other winning ingredient, it would appear, is to not wear make-up in your role - just ask Charlize Theron and Halle Berry.
Obviously stellar performances must be the determining factor, but if you follow the above formula it is probably unsurprising Reese Witherspoon is being touted for Oscar glory in 2015 for her role in Wild.
Based on the best-selling memoir by Cheryl Strayed, Witherspoon ditches the Hollywood glamour to play the author who decides to hike more than 1,000 miles along the Pacific Crest Trail after losing her way following her mother's death.
It is undoubtedly the actress's best performance on screen since winning her Oscar in 2006 as June Carter in Johnny Cash film Walk the Line. She has been stuck in a bit of a rom-com/mediocre role rut ever since and this is the film that has dragged her out.
Directed by Jean-Marc Vallee - who helped Matthew McConaughey and Jared Leto to Oscars last year - the film shows off America's vast and rugged landscape at its best as Witherspoon huffs and puffs along the way while losing toenails on her journey to self discovery.
Flashbacks of Cheryl's life where she abuses drugs and is sexually promiscuous take the actress into territory she's not delved into before which will win points with awards' juries
The winner in the best actor Oscar race is harder to pick out with so many strong male performances from the likes of British actors Eddie Redmayne, Benedict Cumberbatch and Timothy Spall.
But there hasn't been much buzz around the actresses at the festival. Apart from Witherspoon, only Julianne Moore has generated interest from her roles in dramas Still Alice and Maps to the Stars.
Witherspoon puts in a good turn in Wild, but I'm not sure it's a real Oscar-winning performance.
However, in a women's race that currently seems like there just aren't that many runners, she may win.