Obituary: Donald Sinden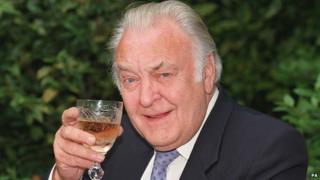 Renowned for his rich, booming voice and commanding presence, Sir Donald Sinden, who has died aged 90 after a long illness, was a star of stage, television and radio for seven decades.
Equally at home in Shakespearean parts as he was on the large and small screen, he was perhaps best known for his roles in such TV sitcoms as Two's Company and Never The Twain.
Born in Plymouth, Devon, in October 1923, Sinden, the son of a country chemist, had intended to pursue a career as an architect and surveyor.
That changed after he made his stage debut in an amateur production at the Brighton Little Theatre, in a role that was meant to be played by his cousin Leon before he was called up to fight in World War Two.
Sinden, who had been turned down for naval service himself because of asthma, would write later that he had "fallen among friends" and "never looked back".
The production led to him being asked, in 1942, to join the Charles F Smith Company, a mobile troupe that entertained the troops along the south coast of England.
After brief training at the Webber Douglas Academy of Dramatic Art, he quickly established himself as a stage performer and joined the Shakespearean Memorial Theatre Company, the forerunner to the RSC.
He made his screen debut in 1953 in film classic The Cruel Sea, playing a naval officer alongside Jack Hawkins, Denholm Elliott and Virginia McKenna.
This was despite the fact he was unable to swim and required a submerged stuntman to keep him afloat during scenes in which he appeared in water.
Sinden went on to appear in the hit comedies Doctor in the House and Doctor at Large and was one of the Rank Organisation's leading contract stars between 1954 and 1958.
Yet theatre remained his first love and from the 1960s onwards he would be seen more often on stage, primarily with the Royal Shakespeare Company.
His many productions with the company included its epic 1963 staging of The Wars of the Roses, in which he played the Duke of York.
He was also seen as Malvolio in Twelfth Night, as Sir William Harcourt Courtly in London Assurance and in the title roles of King Lear and Othello.
In the 1970s he appeared as an imperturbable butler alongside the late Elaine Stritch in ITV comedy series Two's Company.
That was followed by Never the Twain, a long-running sitcom in which he and Windsor Davies played mutually antagonistic neighbours and business rivals.
His instantly recognisable voice was heard in numerous radio productions and television commercials and was parodied on satirical puppet show Spitting Image.
"Do you serve a ham salad?" his puppet was seen asking a waiter in one restaurant sketch. "Yes, we serve salad to anyone!" came the waiter's response.
In recent years Sir Donald appeared as senior appeals court judge Sir Joseph Channing in the BBC drama Judge John Deed.
He also had a brief cameo role in the 2012 release Run For Your Wife and wrote two autobiographies, A Touch of the Memoirs (1982) and Laughter in the Second Act (1985).
Sinden was made a CBE in 1979 and knighted in 1997. He was married to wife Diana for more than 50 years, until her death in 2004. His son Jeremy, also an actor, died from cancer in 1996.
His other son, Marc, is a director and producer whose credits include Great West End Theatres, a Sky Arts documentary series that his father presented.
"Actors ought to be larger than life," Sir Donald told the Observer in 1989. "An actor who knows his business ought to be able to make the London telephone directory sound enthralling.
"When I meet people they say, 'I thought you put that voice on for TV,'" he said on another occasion. "But you can't put on a voice like this - you're just lumbered with it."