Batmobile picture released on Twitter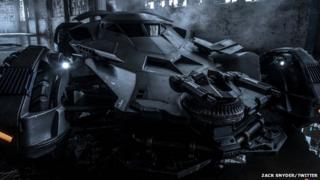 Zack Snyder has tweeted the first official photo of the new Batmobile.
Snyder, who is currently directing the superhero sequel Batman v Superman: Dawn of Justice, posted the image after an unofficial picture leaked online.
It is the first new Batmobile model since Batman Begins, the first in Christopher Nolan's trilogy of films starring Christian Bale.
Henry Cavill will reprise his role as Superman in the 2013 movie opposite Ben Affleck's debut as Batman.
Fans were given a first glimpse of the car back in May when Snyder posted an image of Affleck in a brooding black and white shot.
"Snyder's take on the Batmobile... appears to combine the rugged military outfitting of the Christopher Nolan-style tumbler and more classic, "winged" versions of the vehicle," wrote Michael Calia in the Wall Street Journal.
The film which also stars Jesse Eisenberg as Lex Luthor, and Gal Gadot as Wonder Woman, will be released in March 2016.