Zachary Quinto cast in US version of The Slap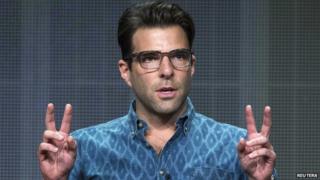 Star Trek actor Zachary Quinto has been cast in the US TV version of The Slap, Christos Tsiolkas's best-selling novel.
Brian Cox, Peter Sarsgaard and Mary-Louise Parker will also appear in the NBC network's eight-episode miniseries.
Published in 2008, The Slap charts the ramifications of a Melbourne barbecue where one of the guests hits a three-year-old child who is not his own.
The Booker-longlisted novel previously spawned a 2011 Australian mini-series starring Britain's Sophie Okonedo.
Narrated by eight characters, the book's exploration of sex, racism and domestic violence saw one critic describe it as "a satanic version of Neighbours".
Quinto - best known for his Mr Spock role in the recent Star Trek films - will play Harry, a mechanic and car dealer who doles out the fateful slap that sets the story in motion.
Lisa Cholodenko, Oscar-nominated director of The Kids Are All Right, will direct the series, the action of which will take place in Brooklyn.
Its script will be written by Jon Robin Baitz, creator and executive producer of US TV series Brothers and Sisters.