Sex Tape caper crowns UK box office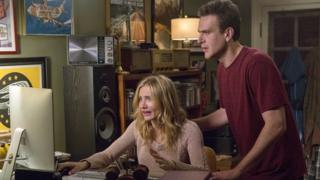 Comic movie Sex Tape, starring Cameron Diaz, has made its debut at the top of the UK and Ireland box office.
The film took £1.4m, comfortably surpassing psychological thriller Lucy and preventing its third week in the number one spot.
Before I Go To Sleep and Helen Mirren movie The Hundred-Foot Journey also made their debuts, at three and four respectively.
Sex Tape failed to debut at number one when it was released in the US.
This week's chart saw a total of four new films grace the rundown for the first time, including thriller The Guest, featuring former Downton Abbey actor Dan Stevens,
It made it first impact on the box office ratings at eight with a return of £313,003.
Disney's long-running space caper Guardians of the Galaxy continued to be a major box office draw for the sixth week, sitting at number five.
The film has now taken over £25m since it was first released.
Dawn of the Planet of the Apes clung on to a top 10 place for the eighth week in a row with cumulative takings of £32m.
Sitcom to big screen sequel The Inbetweeners 2 can also boast this box office haul after five weeks on the chart.
UK and Ireland box office
1. Sex Tape
£1.43m
2. Lucy
£1.19m
3. Before I Go To Sleep
£790,271
4. The Hundred-Foot Journey
£694,875
5. Guardians of the Galaxy
£678,943
Source: Rentrak, takings from Friday to Sunday