Michael C Hall to star in Hedwig and the Angry Inch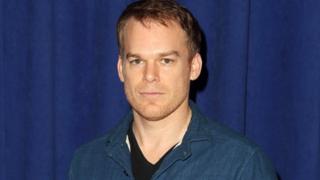 Dexter actor Michael C Hall is to take over the lead role of the transgender German rock star in Broadway musical Hedwig and the Angry Inch next month.
Hall, who also starred in the TV drama Six Feet Under, will take over from Andrew Rannells on 16 October.
Hall has previously appeared on Broadway in Cabaret, Chicago and The Realistic Joneses.
Hedwig and the Angry Inch began off-Broadway in 1998 and became a film in 2001. It is now at the Belasco Theatre.
The show tells the story of an East German man whose sex change operation goes wrong, and who goes on to reinvent herself as a punk rock "internationally ignored songstress".
Following its off-Broadway origin and numerous overseas productions, it reached Broadway this April with Neil Patrick Harris in the main role.
Rannells replaced Harris on 17 August.
The show won four Tony Awards in June, including the prize for best revival of a musical and best lead actor in a musical for Harris.