Eddie Redmayne admits fear over Stephen Hawking role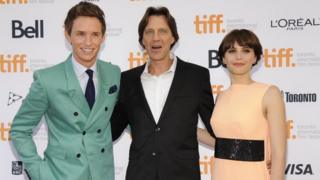 Eddie Redmayne, who plays Professor Stephen Hawking in a new movie, has admitted the pressure of playing the physicist filled him with fear.
"To tell a story as extraordinary as this and depict someone as charismatic, brilliant and funny as Stephen was totally the dream," he told the BBC.
"But with it came high stakes so it was a mixture of a dream and utter fear."
The Theory of Everything details the life of Hawking, who was diagnosed with motor neurone disease aged 21.
Speaking at the film's world premiere at the Toronto Film Festival, director James Marsh praised Redmayne, who portrays Hawking's physical deterioration over a 25-year period.
"It's an amazing performance - I'm so proud of what he did on the film," he said.
"Eddie had to give us a progressive disability, so on any given day on our shoot he could be walking, in a wheelchair, or on two sticks.
"Each has its own details so it comes from an enormous amount of preparation and hard work."
The director added Hawking had seen the film and had given it his approval.
"I think he was surprised it wasn't terrible," he said.
"He saw the film when it was almost finished and one of the first things he said was he wanted to give us his real voice."
With the production team having previously created a voice similar to Hawking's, the 72-year-old subsequently recorded the script's lines using his computerised voice system.
The film has already attracted Oscar buzz, but Marsh refused to be drawn on its chances saying: "We shall see."
Felicity Jones, who plays Hawking's wife Jane - and whose memoir is the basis of the film - said it "would be so lovely" to be recognised during the forthcoming awards' season.
"You'd be crazy to say that wasn't a great thing but at the moment, we just want to keep our heads and take it one step at a time," she added.
The film will be released in the US on 7 November and in UK cinemas on 1 January.