Michael Palin to narrate The Clangers series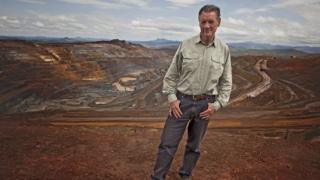 Comedian and presenter Michael Palin is to narrate a new series of classic children's TV programme, the Clangers.
The show centres around pink, mouse-like creatures who live in craters covered by dustbin lids, whose noisy "clang" gave the show its name.
The CBeebies programme will air in the UK next spring.
"The world of the Clangers is delightful and irresistible," Palin said. The original show first aired in 1969 on BBC One.
The clangers communicate with unusual whistles while the narrator comments on the events that take place in their universe.
Palin added: "It's a real pleasure and a great privilege to be a part of its return to television."
The Monty Python star and travel presenter takes over from the late Oliver Postgate, who created the original series with Peter Firmin.
Postgate's son Daniel will be executive producer on the new series alongside Firmin, who said: "Michael Palin was my first and favourite choice, so of course I'm absolutely delighted.
"Among other things, he's been a warm and charming guide for us all in his extensive travels around this world, so it seems wonderfully appropriate that he should pack his bags once more, go off across the starry expanse of space and do the same for the world of the Clangers."
Firmin said: "As an old stick-in-the-mud, I don't often change my mind and from the very beginning I wished and hoped that Michael Palin would agree to be our narrator. Once, in a blue moon, wishes come true. This is once in a blue moon. I hope Michael enjoys his voyage to our little Blue Planet."
The Clangers was first shown on BBC One in November 1969, just four months after Nasa's moon landing and one episode even showed the Clangers making inventive use of a flag left behind by some astronauts.
The £5m production is already under way, and is being co-produced by Coolabi Group, Smallfilms and US pre-school TV channel Sprout, which will broadcast the programme in North America.